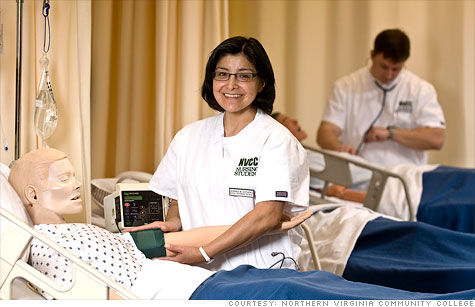 The health care industry is helping Northern Virginia Community College bolster its nursing program.
NEW YORK (CNNMoney) -- Contrary to popular belief, there are plenty of job openings out there.
Problem is that there aren't enough Americans trained to do them.
Community colleges and companies are hoping to change that. The two groups, with encouragement from the Obama administration, are deepening their alliances to better prepare students for jobs ranging from health care to manufacturing to retail.
"Employers are turning to community colleges because those lining up at the door aren't qualified," said Anthony Carnevale, director of Georgetown's Center on Education and the Workforce. "The skills requirement has gone up and employers don't train entry-level workers anymore."
Companies are helping schools design their curriculum, providing more internships for students, and in some cases, even helping the cash-strapped schools finance their programs and pay their teachers.
There's no guarantee the effort will do much to erase the so-called skills gap. Community colleges have long provided job training, but execution has been uneven. Job training initiatives have spotty records, and some experts say the problem starts in high school or even middle school.
But there are already signs that when colleges and companies work together, students benefit.
Derek Stine graduated from Hagerstown Community College last year with a web and multimedia technology degree, and landed a job at d'Vinci Interactive after interning at the web services firm.
D'Vinci has a close relationship with the Maryland-based college, having started at Hagerstown Technical Innovation Center, a business incubator. When Stine wanted to get some on-the-job experience, Hagerstown's internship coordinator helped set him up at d'Vinci. The company hired him as a result of the internship.
"It's good for both the company and the person to have a period to judge the fit and make sure it's a good one," Stine said.
At Hagerstown, local employers such as d'Vinci serve on career advisory committees, which focus on curriculum issues in fields like engineering, biotechnology and nursing. Nowadays, the committees meet more frequently and the curriculums are updated annually in many cases.
The school wants to make sure it's not graduating students with useless skills, said Guy Altieri, the college's president.
"There is a constant dialogue between faculty and employers," he said. "We need to change as well to make sure our graduates have all the experience employers want."
Some employers are taking a very hands-on role at their local schools.
This fall, the first batch of students will take their seats in Lakeland Community College's applied science program in manufacturing. The initiative is the brainchild of the Alliance for Working Together, a group of more than 100 manufacturers in Northeast Ohio.
Local industry leaders, who helped design the curriculum, will also offer scholarships and internships to promising students.
The alliance wants to both interest high school students in pursuing a career in manufacturing and educate them so they can enter the field, said Roger Sustar, president of Fredon Corp. and the group's founder. He could fill a dozen job openings at his firm "if we could get people," he said.
"You think we'll let an 18-year-old kid run a $400,000 machine?" said Sustar, who first broached the idea to Lakeland's president a few years ago. "Are you crazy?"
It's no longer uncommon for presidents of companies to meet with their college counterparts. Often, state officials are involved, as well.
When Bob Templin took over the helm of Northern Virginia Community College nine years ago, the school's relationship with local industries mainly consisted of advisory groups reporting what the companies wanted.
Now, he meets directly with chief executives, whose companies are more involved in curriculum planning and in creating on-the-job opportunities for students.
"They are helping to grow the future workforce they know they'll need," Templin said. "It's a bottom-line business issue. They won't be competitive if they don't have the workers."
The college has been ramping up its offerings in the health care field, supported by the Northern Virginia HealthFORCE, a consortium of business, educational and government leaders looking to address the industry's worker shortage in the area.
The school has received more than $3 million from the alliance over the past five years, which has helped it double the size of its nursing program and grow other health-related tracts by two-thirds. Some of the funds go to supplement the salaries of faculty, who might otherwise return to the private sector.
Companies have to get more involved in the nitty gritty of training programs at community colleges because of the rapid changes in technology, experts said. Machinery and computer programs are constantly upgraded.
The changes are also being supported by the Obama administration, which has set aside more than $2 billion for job training efforts at community colleges. Last October, the president launched the Skills for America's Future initiative. Its mission is to ensure community colleges are graduating students qualified to apply for open positions in their area.
"You are encouraging training for jobs that actually exist in that community," said Ruchi Bhowmik, special assistant to the president.
The initiative will look to build relationships between educators and employers, said Karen Elzey, the program's director.
For example, last month, the National Association of Manufacturers signed on with the goal of providing 500,000 community college students with industry-recognized credentials that will help them land jobs in the industry. Companies will work with local colleges to set up a manufacturing skills certification system endorsed by the association.