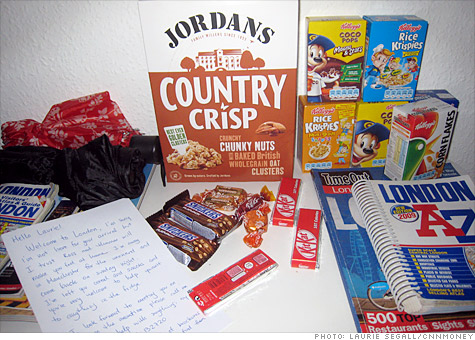 Welcome to London! Some people who rent rooms on Airbnb are extremely gracious hosts. Others? Not so much.
This is the debut of Startup Radar, a new weekly column focusing on the hottest and most innovative private tech companies.
NEW YORK (CNNMoney) -- Airbnb is one of the more buzzed about startups of the moment. It's got all the ingredients: a massive round of funding; an investment from Ashton Kutcher, exponential growth and a decent revenue model. But is it worth the hype?
The idea: people rent out their private spaces at an affordable rate. Those spaces could range from an extra bedroom to an extra property, yacht, loft -- you name it.
Choose a location, select your vacation days, and the next thing you know, you're browsing through apartments with terraces overlooking Istanbul, and homes for rent just steps away from the Acropolis. There's even a furnished plane tucked in the trees of an exotic island up for grabs.
I'll admit, the website is pretty addicting, but you never know what the actual experience will be. Are these pictures legit? Could one of the listings turn out to be a scam?
Sure, a castle in Italy looks phenomenal, but what if I show up and there's a man with a butcher knife greeting me? I'd hate to be the inspiration for an Airbnb-themed Law and Order.
During my most recent vacation, I put those worries aside and decided to go the Airbnb route. In theory, it seems like the perfect way to experience a new destination like a local without breaking the bank.
After browsing through a number of affordable flats in the center of London and Berlin, I booked two Airbnb rooms. One overnight flight to London and a struggle with customs to explain my living arrangements later, I was off to my first Airbnb destination.
It couldn't have gone smoother. When I arrived, a handwritten welcome note awaited me along with maps of the tube and a guide to London. Also on that welcoming table were tiny boxes of cereal, Snickers bars, and Kit Kats. The apartment appeared exactly how it was presented in the pictures.
"Cups, dishes, Pimms --anything you want to use, go ahead," my host offered.
For less money than it would cost to stay in a hostel, I was being catered to in a charming flat that was steps away from Portobello road, one of London's most famous streets. This was definitely an Airbnb success story.
My experience in Berlin was a bit different.
As I waited outside the apartment buzzing the doorbell, a tall man on a bicycle rode up.
"Do you live here or something?" he said.
Before I could determine whether he was joking, he whisked my bags up the stairs into the loft. It was accurately presented in its online photos except for one fact: a small flood in the kitchen.
It wasn't a completely smooth transition. While I was attempting to connect to spotty wireless, my friend was receiving a ten minute lecture from the host on how to remove hair from the bathtub drain.
When we arrived home at midnight, our host was in the kitchen washing dishes. The flood had subsided. We tried to sneak past him, but he rushed over and insisted we visit the roof of the building.
As we walked up the dark flights of stairs, our host dropped to the floor and gave us a play by play on how he obtained the roof key. After opening the door, he sprinted to the edge of the roof and reveled about the view. Several long pauses and dramatic sighs later, we were led back down the stairs back to the flat.
"I was pretty sure one of us wasn't coming down," my friend mumbled.
Despite a bit of odd behavior, our host was extremely helpful when it came to information about the city and transportation. The loft itself was beautiful.
Airbnb has gained traction for cracking a market that's relatively flawed. Traveling is expensive, and it's tough to find a middle ground. I'd rather not stay in a hostel in London, but a hotel in the area I stayed in would have been at least double what I paid for the room on Airbnb.
My London host, who's been renting a room in his flat on Airbnb since December, says he's built a social network of people around the world. "You come with bags, leave with friends," he said.
For those who don't want to "leave with friends," there's the option of renting an apartment or home sans host.
Of course, my Law and Order fears haven't completely subsided. Just last week, an Airbnb horror story surfaced from a woman whose home had been ransacked by her Airbnb visitors.
After the incident, Airbnb immediately announced plans to double customer support and bulk up security measures. It was a blow for the startup darling, but not a fatal one.
Airbnb properties are now in 186 countries around the world, and there are already a host of clones. And as we learned with Groupon, imitation is the sincerest form of flattery.
Also similar to Groupon, Airbnb appeals to people beyond the tech world.
That market includes me. Despite our relatively strange Berlin host, I would definitely book again.