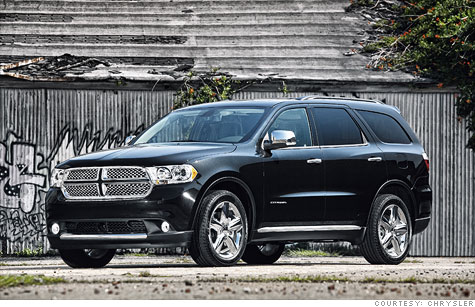 Redesigned SUVs, like the new Dodge Durango, were especially popular with Chrysler and GM customers while the small Escape SUV was a big seller for Ford.
NEW YORK (CNNMoney) -- U.S. automaker sales rose in July with Chrysler Group posting an especially strong, and unexpected, gain.
Despite those gains, analysts say auto sales are recovering at a more tempered pace than had been expected at the beginning of the year, before Japan's earthquake and Tsunami disrupted production for Asian automakers.
The slow pace of economic recovery so far this year is also keeping some customers out of showrooms, automakers said.
"The rest of the year is going to be a continued struggle," said Jesse Toprak, an analyst with the auto pricing Web site Truecar.com. Auto sales won't return to really healthy levels until the end of 2011, he predicted.
Chrysler Group, which makes Chrysler, Dodge and Jeep vehicles, reported a 20% sales gain compared to last year. That was stronger than the 15% gain industry analysts at Edmunds.com had projected.
SUVs played a big part in Chrysler's sales growth. The newly redesigned Jeep Grand Cherokee and Dodge Durango SUVs as well as the Jeep Wrangler are all selling more strongly.
Overall, Chrysler sold 112,026 vehicles in July compared to 93,313 in the same month last year.
General Motors (GM, Fortune 500) reported a 7.6% increase in sales compared to last year, but that figure includes the four brands GM shed in its restructuring -- Saab, Pontiac, Hummer and Saturn. Stripping away those brands the increase was 7.8%. In all, GM sold 214,915 vehicles in July.
The biggest gainers for GM were fuel-efficient cars and crossover SUVs. GM sold almost 25,000 Chevrolet Cruze compact cars last month compared to under 7,400 of its predecessor, the Cobalt, in July of last year. Sales of the closely-related Chevrolet Equinox and GMC Terrain small crossovers rose a combined 73% compared to last year.
Even so, GM's sales didn't quite meet the forecasts of industry analysts at Edmunds.com who had expected a gain of 8.7%.
Ford Motor Co., (F, Fortune 500) meanwhile, posted a 9% sales increase compared to the same month last year, selling 180,865 vehicles. SUVs played a big role in Ford's sales, too, with sales of the Escape small SUV up almost 150% compared to last year. Overall, Ford SUV sales were up 31% compared to last year while car sales rose just 3.4%.
Tight inventories of Ford's popular small cars could be causing the shift toward the Escape, said Edmunds.com analyst Jessica Caldwell. Ford analyst George Pipas agreed that Ford dealers have very slim supplies of Fiesta and Focus small cars.
"The Ford Escape offers good value, so it appears to be picking up some of the demand that can't be met by the supply of smaller vehicles," Caldwell said.
Overall, domestic automakers' sales were more or less in line with what analysts had expected, said J.D. Power analyst Jeff Schuster. But he said the auto industry's recovery is going slower than had been expected at the beginning of the year.
"July is usually a big month for sales, so this was a bit of a missed opportunity," agreed Caldwell of Edmunds.com.
Japanese automakers still reeling. Koreans keep winning: The major Japanese automakers, still recovering from the massive natural disaster in their home nation, fared much worse than their Michigan-based competitors.
Honda (HMC) suffered a 28% drop in sales compared to July, 2010. Honda and its luxury Acura division sold a combined 80,502 vehicles last month.
"We look forward to improved inventory levels in the coming months as most of our North American facilities begin to return to full production in August," said John Mendel, American Honda executive vice president of sales.
Toyota's July sales were down almost 23% from the same month in 2010. Compared to last month though, sales rose. Toyota has said it is recovering more quickly from the earthquake than it had originally projected.
"If you look at Toyota's performance last month it was actually a little bit better than we expected," said Toprak.
Toyota (TOYOF), which also sells Lexus and Scion models, sold 116,263 vehicles last month.
Toyota's inventory levels, and therefore its sales, probably won't return to healthy levels until early next year, Toprak predicted.
Earlier in the day Toyota reported financial results for the first quarter that plunged due to the massive earthquake and tsunami that struck Japan in March, but issued a sunnier forecast for vehicle sales for the full fiscal year ending next March 31.
Nissan (NSANF), meanwhile, reported an increase in sales of 2.7% compared to last year even as sales for its Infiniti luxury division fell 26%.
Japanese automakers have been increasing their spending on sales incentives, analysts at Edmunds.com reported, raising the possibility of a "rebate war" in the weeks to come that could lower actual car prices for consumers.
Korean automakers Hyundai and Kia, which are both owned by the same parent company, posted sales gains last month. Hyundai's sales were 10% higher than July 2010 with 59,561 vehicles sold. Kia sales were up 28% with sales of 45,504
While domestic automakers still spend more on rebates and other incentives, Japanese automaker have been closing that gap as they attempt to bring back customers.