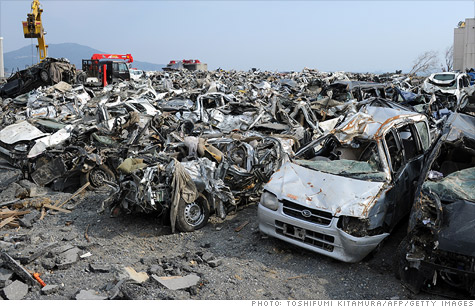 Toyota sales are still being affected by the earthquake-tsunami that ravaged Japan on March 11.
NEW YORK (CNNMoney) -- Toyota Motor Corp. blamed the massive March 11 earthquake that ravaged Japan for its 99% plunge in fiscal first-quarter earnings, but raised its forecast for the full year.
Toyota (TM) said net income for the quarter ended June 30 fell to ¥1.1 billion, or $14 million, from ¥190 billion, or $2.5 billion.
Revenue dropped nearly 30% in the quarter to ¥3.44 trillion, or $44.5 billion.
The decline stemmed from a one-third plunge in vehicle unit sales in the quarter, which began just weeks after the devastating earthquake led to production halts in Japan and North America. Toyota sold 1.22 million vehicles in the first quarter, a drop of 599,000 units compared to the same period last year.
But Toyota issued a sunnier forecast for vehicle sales for the full fiscal year ending next March 31. The automaker expects to sell 7.6 million vehicles, an increase of 360,000 from the forecast announced in June and up from 7.31 million in the prior fiscal year.
The company said annual revenue will come in around ¥19 trillion, little changed from the prior fiscal year, with net income dropping about 4% to ¥390 billion.
Much of the decline in the first quarter came from slumping sales in North America, where there was a drop of nearly 50% in vehicle sales by unit, and Japan, where the tumble was about 40%. But sales in other Asian nations picked up the slack.
"In Japan and North America where the effects of the earthquake were particularly serious, vehicle sales declined substantially," said Toyota senior managing officer Takahiko Ijichi. "In the Asia region, despite the impact of the earthquake, we were able to maintain a similar level of vehicles sales as the previous year in countries led by Indonesia."
On March 11, the earthquake and resultant tsunami wiped out parts of northern Japan, killing thousands of people and triggering a meltdown at the Fukushima Daiichi nuclear power plant.
The quake hurt Toyota while it was recovering from the massive recalls of the prior year. The problems caused Toyota to lose market share in the United States to rivals such as General Motors (GM, Fortune 500) and Ford Motor (F, Fortune 500).