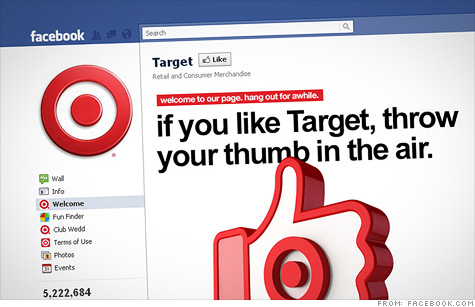 Retailers such as Target and J.C. Penney are relying more on social media this year to support their back to school campaigns. But will it work?
NEW YORK (CNNMoney) -- Expensive TV and newspaper ads are so passé. This year retailers are betting on Facebook to hype their deals on backpacks and jeans during the critical back to school shopping season.
For merchants, it's an effective -- and cheap -- way to reach a wider audience. For consumers, having stores directly send them deals and other shopping tips could save them money and time.
Popular back to school destinations like Target (TGT, Fortune 500), Sears (SHLD, Fortune 500) and Aeropostale (ARO) are among dozens of merchants that are pushing the envelope in how they use social sites like Facebook to generate buzz.
For instance, teen clothing chain Aeropostale this week launched a new "Facebook store."
The retailer said users can buy products directly from its Facebook store, and using Facebook's "like" and "share" tabs, also share what's in their shopping bag with their Facebook network of family and friends.
Target is launching a "1,000 likes" back to college Facebook promotion from Aug. 4 to Aug. 31, which will feature a daily deal on items such as mini fridges, futons and a printers.
Target said each day the first 1,000 people to "like" a deal will get an online coupon worth 40% to 50% off the item.
Not to be left out, Sears (SHLD, Fortune 500) is offering to help out busy moms with a "Mom's Amazing List" tool on its Facebook page. The tool lets parents create an easy to reach online shopping list and even "suggests" some items for the list based on gender and age.
Aeropostale's rival American Eagle Outfitters (AEOS) is hoping a Facebook photo contest gets its brand front and center with back to school shoppers.
The seller is asking shoppers to upload a picture of themselves wearing American Eagle denim either through its web site or by clicking the "AE BestShot" tab on its Facebook page.
The top 10 winners will get $3,000 each and two hundred other winners will get $100 gift cards, the retailer said.
It's not yet clear how these gimmicks are paying off, said Sucharita Mulpuru, vice president and retail analyst with Forrester Research.
"It's hard to quantify if these tactics are actually driving retailers' sales," she said.
On the plus side, social media campaigns are relatively inexpensive compared to TV and print ads while their exposure to consumers can be tremendous, she said.
"Facebook has 750 million users. That's got to be worth something for retailers from a marketing perspective," she said.
"But to assume that by running a great Facebook back to school campaign will lead to a blockbuster sales season, that link isn't clear," Mulpuru said.
Instead, she said companies should first focus on how to develop a great social media campaign. "What you don't want to do is spam Facebook walls with information about your products and deals," she said.
Carolyn Everson, Facebook's vice president of global marketing, partly agrees with Mulpuru.
Retailers are in the early stages of learning what social media means, Everson said, but they are learning it quickly. "92 of the top 100 global marketers are on Facebook. Every major retailer has a Facebook page," she said.
She said companies are using Facebook to create brand awareness and "to get their cash registers to ring."
According to Everson, Facebook has some proof that social media campaigns can pay off for merchants.
Last year Levi's ran a five-day Facebook campaign that offered a 40% off deal to consumers. The campaign was integrated with the company's website.
"Levi's saw a two-fold increase in traffic to its web site 15 minutes after the promotion launched on Facebook," she said, and 1,600 people showed up to Levi's stores after hearing about the deal through Facebook.
Last November Gap Inc. (GPS, Fortune 500) announced on Facebook that it was giving away 10,000 pairs of jeans to fans who used Facebook Places "check in" tab for Gap. Everson said Gap quickly ran out of the free jeans but compensated other shoppers with a 40% off coupon.
"Retailers are in very early stages of understanding social media. They have a ways to go before they out social media in the center of their business [strategy]," she said.
"But with the size of our membership and the fact that people are spending 700 billion minutes a month of Facebook, companies know that this is where there customers are," said Everson.