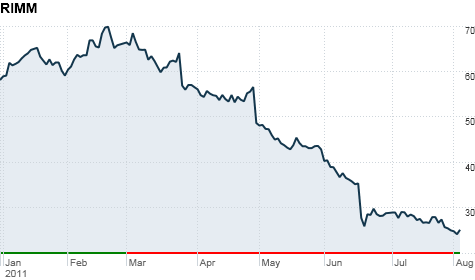 Click chart for more data.
NEW YORK (CNNMoney) -- It's another tough day on Wall Street, yet Research in Motion (RIMM) shares are up more than 5% after the company said it would launch a new series of smartphones operating on its BlackBerry 7 OS.
The BlackBerry Torch 9810 will debut first and is slated to land in August. Two other Torch models and two new Bold phones will also be released soon.
The company needs its new phones to be a hit. RIM has said the BlackBerry OS 7 operating system and new devices would give a boost to the struggling company. For the fiscal first quarter, which ended May 31, sales rose 16% to $4.9 billion, missing analysts' forecasts of $5.2 billion.
RIM said it sold a disappointing 13.2 million devices -- including a measly 500,000 PlayBook tablets -- in that quarter. That fell short of RIM's already reduced guidance of 13.5 million to 14.5 million devices for the quarter.
In July, Research in Motion said it would lay off 10% of its workforce as part of a previously announced cost-cutting effort.
But according to analysts, a slew of new BlackBerry 7 devices won't provide the solution to the company's problems.
"It's good to see new models coming out," BGC Partners senior analyst Colin Gillis said. "But again the broader transition is going to be to the QNX operating system."
RIM acquired QNX from stereo company Harman International (HAR) last year. By next year, many RIM devices are expected to operate on this operating system, which Gillis described as "more suited for today's high end platform."
Peter Misek, an analyst with Jefferies & Co., also said that the newest BlackBerry phones won't be enough to satisfy investors for long.
"While it's nice that they're out, I think the market is really waiting for QNX devices," he said. "The reviews [of the new phones] are okay, but it doesn't solve all their problems."
Those problems include producing devices that allow the company to keep up with competitors in the fast-growing smartphone market. The maker of BlackBerry has taken a hit as Apple (APPL)'s iPhone and Google's (GOOG, Fortune 500) Android phones have dominated the smartphone industry.
Misek said that RIM's decision to produce new devices for an operating system that's being phased out is the company's attempt to stay in the market before QNX is up and running.
It's similar to the move by Nokia (NOK), which will be selling new phones running on its Symbian system despite having a deal to launch phones operating on Microsoft's (MSFT, Fortune 500) Windows Phone 7 as well. Nokia CEO Stephen Elop made that announcement in February.