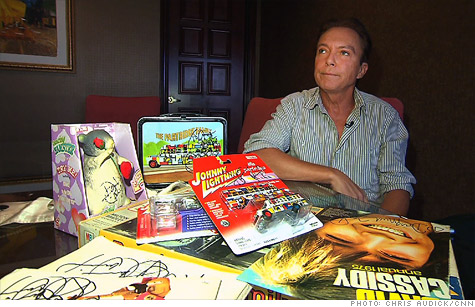 Cassidy said he was only paid $5,000 for merchandise from "The Partridge Family." He was supposed to get 15 percent of net merchandising revenues.
LAS VEGAS -- A CNNMoney and CNN Special Investigations Unit exclusive report. "Hollywood Hustle?" will be part of a CNN Presents hour on Sunday, Aug. 7 at 8 p.m. and 11 p.m. ET.
In a hotel suite just hours before going on stage, David Cassidy is signing the famous lunchbox from "The Partridge Family," the 1970s television show in which he starred and performed his hit records.
Today, 37 years after the show went off the air, Cassidy is still filling showrooms with hits like "I Think I Love You."
But he won't be singing that song to Sony, which owns "The Partridge Family."
Cassidy told CNN that Sony Corp. (SNE) has failed to pay him "a fortune" for what he's owed for merchandise from the show.
"It's just ludicrous and unfair and wrong. It's greed," the 61-year-old actor said.
Cassidy said he was only paid $5,000 for merchandise from "The Partridge Family." Under his 1971 contract with Screen Gems, a division of Columbia Pictures Industries which is owned by Sony, Cassidy was supposed to get 15 percent of net merchandising revenues for the use of his image, voice or likeness.
The show, which aired from 1970 to 1974, spawned merchandise such as lunchboxes, Colorforms' David Cassidy dress-up sets, pins and board games.
"I don't want to shame and embarrass and humiliate them, but I will if I have to," Cassidy told CNN. "You owe me a fortune -- you want to go to trial, big bad Sony against David Cassidy, go ahead."
In a letter to Sony, Cassidy's attorney Craig Marshall, requested a full accounting of the merchandise.
"We are formally requesting an accounting and payment for any and all sale, exploitation or other use of Cassidy's name, likeness, voice or other exercise of such merchandising rights," states the letter to Gregory Boone, executive vice president of legal affairs for Sony Pictures Television. "In that regard, we also request a prompt and full accounting and payment of proceeds for any merchandise that was sold, exploited or otherwise used subsequent to the rights period set forth in the agreement."
Boone responded in a letter that Sony "could not (and so far as we know did not) enter into any new merchandising licenses" using Cassidy's "name, voice and likeness rights" after the show went off the air.
"We have searched for copies of the merchandising net proceeds rendered to Mr. Cassidy in the 1970s, but have been unable to locate them," the letter said. "However, we did find some correspondence ... showing that Mr. Cassidy's representatives audited such statements. Therefore, they must have been rendered to him."
The letter said that any potential claims are invalid, because the "statutes of limitation" had expired decades ago.
Sony officials told CNN they had no comment.
When asked why he waited so long to raise the merchandising issue, Cassidy said he didn't have a copy of his contract until -- after a string of moves and business managers -- he found it in a box that he hadn't opened since the 1970s.
"My hands started to shake. There was the contract," he said.
Besides his claims that he was cheated out of merchandising revenues, he said new merchandise from the show has continued to be produced in the last 10 years. Since the merchandising rights reverted to him one year after the show went off the air and he was entitled to profits from the show, he said he was also supposed to get paid for any new merchandise.
For example, Cassidy showed us "The Partridge Family" toy bus and model kit with a 2001 copyright. The company that manufactured the toy, Playing Mantis Inc., has since been sold. But a spokeswoman for the new company confirmed that the toy was produced in 1998 and again in 2001, with Sony's permission.
A toy hamster that sings "I Think I Love You" also has a 2001 copyright from Gemmy Industries Corp. Lio Chang, a company vice president, told CNN that Gemmy got permission to use music from a Sony subsidiary.
Still another "Partridge Family" toy bus has a 2003 copyright from CPT Holdings, which is Columbia Pictures Television -- yet another Sony subsidiary.
A Sony spokeswoman had no comment when CNN asked about these recent copyrights.
The only other cast member reached by CNN from "The Partridge Family" who said he received money from merchandising is Brian Forster, who replaced Jeremy Gelbwaks as Chris Partridge in the second season. Forster said he received about $1,100, after his mother demanded payment from the studio.
The other cast members contacted by CNN said they either didn't have a merchandising clause in their contracts, or do not remember getting paid.
Cassidy's comments to CNN follow interviews earlier this year with cast members of "Happy Days," who are suing CBS over the same issue.
Actors Don Most, Anson Williams, Marion Ross and Erin Moran, as well as the widow of actor Tom Bosley, filed a $10 million suit in April, claiming CBS, which owns the show, failed to pay them for "Happy Days" merchandise, which is still being sold around the world.
After the lawsuit was filed, CBS Corp. (CBS, Fortune 500) sent checks to the actors totaling $43,403. But Jon Pfeiffer, the actors' attorney, said he would not cash the checks while the case is pending because that would imply his clients agree with CBS that is all they are owed.
In a statement, CBS said it agreed the "Happy Days" actors are owed money for the merchandise, but dispute the amount. In a court filing, the company said the actors are "attempting to generate a lucrative litigation windfall, by riddling their complaint with unsupported and overreaching causes of action" for fraud and breach of good faith. CBS said this was "all done in a transparent attempt to introduce the specter of punitive damages" in the case.
But the actors fired back in court papers, saying "although defendants routinely rebrand their corporate images, they should not be permitted to rebrand the truth."
"Happy Days is the type of show that represents the best that we could be," Williams told CNN. "It's something warm, something tactile, when life was good and life was simple -- when friends were friends and neighbors were neighbors. And for this to happen to this type of show, I think it's going to ring in peoples' hearts because it's going to go beyond this show."
For Cassidy, he said the issue with "The Partridge Family" is the same -- where did all the merchandising money go?
"It's clear. It's simple," Cassidy said. "I don't want to sue you; I don't want to have to do that. Just be fair. Be real, be genuine -- don't be greedy."