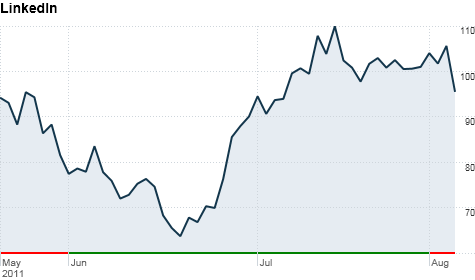 Click chart for more data.
NEW YORK (CNNMoney) -- Business social network LinkedIn (LNKD) released its first financial results since its initial public offering in May, and reported a surprise profit on sales that beat analysts expectations.
LinkedIn said it earned 4 cents per share in the second quarter. Net income for the quarter reached $4.5 million. Excluding stock compensation expenses and other charges, earnings were 10 cents a share. Sales more than doubled from a year ago to $120 million.
Analysts polled by Thomson Reuters expected a loss of 3 cents per share with a consensus revenue estimate of $104.7 million.
Shares of LinkedIn rose 5% in after hours trading. The stock plunged 9% drop in regular trading as the broader market suffered its worst day since the financial crisis of 2008.
LinkedIn, which priced its IPO at $45 a share, surged more than 172% to a high of $122.70 on its first day of trading. The company raised more than $350 million making it one of the largest tech IPOs since Google (GOOG, Fortune 500) in 2004.
The stock is currently trading above its first day closing price of $94.25 and rose to about $100 in after hours trading Thursday.
Investors were clearly pleased by the fact that the company was able to post a profit.
"In the second quarter, we saw record levels of members, unique visitors, and page views, while revenue growth further accelerated," LinkedIn CEO Jeff Weiner said in a statement. "Going forward, we plan to continue to invest in our team, technology, and products in order to increase the value we deliver to members and realize the full potential of the LinkedIn platform."
The number of LinkedIn members increased 61% to 115.8 million from the second quarter of last year.
In 2010, the company's last full fiscal year, LinkedIn earned $15 million in profit on sales of $243 million.
Before last year, LinkedIn had suffered losses since its 2003 inception -- except for 2006, when it turned a slight profit on revenue of $32 million.
LinkedIn is one of several companies to take advantage of investor interest in social media and other Internet stocks. Russian search engine Yandex (YNDX), real estate site Zillow (Z), Internet radio company Pandora (P) have all gone public in the past few months.
Daily deal giant Groupon also filed for an initial public offering this summer, and it was followed by social gaming company Zynga a month later. It's not clear when those companies will hit the public market.