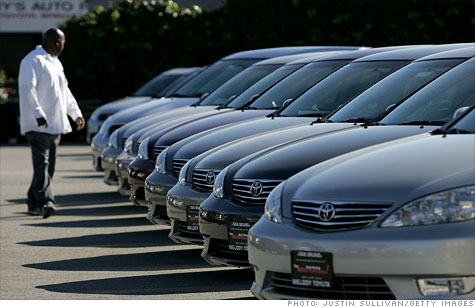 Japanese automakers, feeling the pressure of sliding market share, may touch off an incentive war, analysts say.
NEW YORK (CNNMoney) -- If you're thinking of buying a new car, maybe you should wait a little longer. Auto industry analysts expect a rise in car buying incentives this fall beyond the ordinary "model year turn-over" sales push.
Don't expect an all-out "Rebate War" like you used to see years ago. This will seem like an elementary school slap fight compared to all that "Red Tag Sale" stuff you may remember from the not too distant past.
Still, in the context of today's more restrained new car market, there will be some serious deals involving rebates, low interest rate financing, other incentives.
And it will be spurred not by the usual Detroit suspects, but by the Japanese, analysts predict. As Toyota, Honda and Nissan restock inventories depleted by last February's earthquake and tsunami, they're also feeling pressure to halt declines in market share.
Japanese automakers have already been raising their incentive spending at a far faster pace than domestic automakers, analysts say.
Between June and July, Toyota (TM)'s incentive spending rose 26%, Nissan (NSANF)'s climbed 21% and Honda' (HMC)s jumped an amazing 37%, according to data from Edmunds.com. By contrast, General Motors (GM, Fortune 500) spent only 8% more on incentives and Chrysler 6% while Ford (F, Fortune 500)'s incentive spending actually dropped about 2%.
Toyota and Honda did not respond to requests for comment on their incentive spending. Nissan said its incentives "would need to be assessed over a many months' period in order to accurately predict a trend."
In terms of dollar amounts, the Japanese are still spending less to lure buyers than Detroit automakers are, but the ordinarily yawning gap in incentive spending between Detroit and Japan is narrowing.
There are a few reasons for the Japanese to be ramping up the pressure. News of production problems and lean inventories at Japanese-brand dealerships have kept customers away, analysts say.
On top of that, the competition is just plain fiercer than it's ever been.
In the old days, Japanese automakers might simply have ridden out a few slow sales months figuring their loyal customers would come back later, said Jesse Tropak, an auto sales analyst for Truecar.com.
Not anymore.
"If the Japanese had had these issues 10 years ago, what would you have done? Bought a Chevy or a Hyundai?" Ten years ago, Tropak said most people would have laughed at the idea.
Today, with cars like the Chevy Cruze and the new Hyundai Elantra on the market, the answer often is "Yes, I think I will buy a Chevy or Hyundai."
As a result, Japanese market share has been declining. Toyota's market share, for instance, has dropped from 17% a year ago to just 13% today, said Alec Gutierrez of Kelley Blue Book's KBB.com.
South Korean sister-brands Hyundai (HYMTF) and Kia, on the other hand, have been on a tear, taking customers from both Japanese and domestic brands said Gutierrez.
"Hyundai (and Kia) have passed Nissan in terms of market share in the past year," he said "and they're almost in a dead heat with Honda."
Push back: Data analysts at the Car Shopping Web site Carwoo.com expect discounts on Toyota and Honda models of 14% to 18% beginning in September and October.
KBB.com's Gutierrez doesn't see discounts peaking until much later, though, with rebate battles hitting full steam in November and December.
Soon, analysts say, the rising Japanese incentives are bound to provoke a response from domestic automakers.
Domestic incentives are expected to remain larger than their Asian competitors', but the Americans will apply their incentives in more subtle, targeted ways. Rebates and low-interest-rate incentives will be placed on specific cars and in certain regions where the help is needed.
Either way, they say, a battle for car buyers is looming.