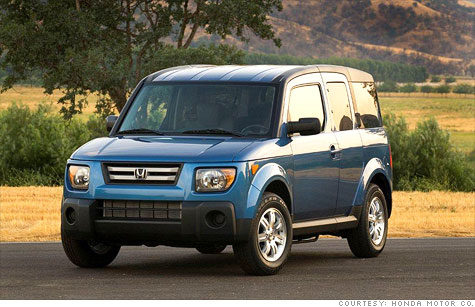 Rapid shifts between Drive and Reverse could cause the transmission to malfunction in some Honda models.
NEW YORK (CNNMoney) -- Honda is recalling 1.5 million cars in the U.S. to fix a transmission issue.
In some cars, a transmission part can be damaged if the car is shifted quickly between Reverse, Neutral and Drive, as might be done when trying to free a vehicle stuck in snow or mud.
If the part, a secondary shaft bearing, is damaged it can cause the engine to stall. It could also cause the car's Parking gear mechanism to jam, allowing the car to roll even when the gear selector has been placed in the Park position.
To fix the problem, Honda (HMC) will update transmission control software in the car, reducing the maximum engine speed at which gears can be changed between Drive and Reverse.
The vehicles involved in the recall are model year 2007 through 2010 Honda CR-Vs, 2005 through 2008 Elements and 2004 through 2010 Accords with 4-cylinder engines.
No injuries or deaths have been reported as a result of this problem, Honda said.
Honda has been hit with a spate of bad news. Sales are down sharply as the Japanese automaker struggles to recover from the tsunami and earthquake in its home country. Also, the brand's popular Civic compact car received a harsh review from the influential Consumer Reports magazine.