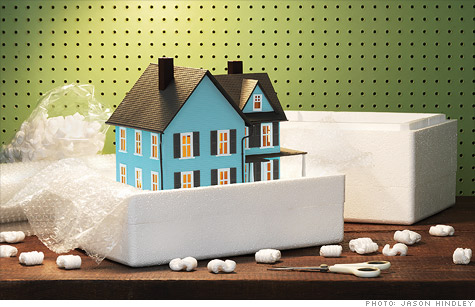 homeowner's insurance
(MONEY Magazine) -- The season for natural disasters, it seems, is now year-round. Floods and a record number of tornadoes have already caused billions of dollars of property damage across the nation in 2011. Come fall, forecasters expect an unusually active hurricane season. Moreover, experts believe crazy weather is here to stay.
"Climate change is intensifying the extremes of rain and snow as well as drought," says Robert Henson of the University Corporation for Atmospheric Research.
Think homeowners insurance will cover your tab if your property is walloped by Mother Nature? Think again.
A 2008 study found almost two-thirds of homes were under-insured for disasters. Worse, about a third of homeowners have recently lowered their home or auto coverage to save money, according to a 2011 survey by the Insurance Information Institute. Finally, even if your insurance is adequate it may not have the right coverage for the risks you face. Below, key steps to limit the damage.
Shore up your property
For earthquakes. The roof is a key vulnerability. You'll spend 2% to 3% of your home's value to firmly strap down the roof to the walls and foundation, says Timothy Reinhold, senior vice president of research for the Institute for Business and Home Safety.
For tornadoes. Again, your roof is at greatest risk of being damaged by high winds, says Robert Schneller, a risk-management expert at the University of Houston. Spend $50 to $100 per hour to have a roofer secure loose shingles or flashing that a gust of wind could pull loose. Also install roof clips to better attach your roof to the walls ($1 per clip, plus labor).
The garage door is another weak spot. An impact-rated pressurized door will run you $1,300, but you can also retrofit your existing door with pressurized equipment, which will cost just $450 and provide reasonable protection, says Reinhold.
You'll also want to add extra barricades to prevent flying debris from shattering your windows. The thrifty choice: strong metal panels, which cost $60 per window but must be taken off by hand and stored when not in use. Motorized roll-down shutters that are permanently attached to the window are more convenient (and come in attractive styles) but cost up to $450 per window, plus installation.
Get better coverage
For hurricanes. Take the same measures to bolster your roof and windows, and spray closed-cell foam adhesive into the joints of your roof, which forms a waterproof barrier ($2 per square foot). Install a $500 to $1,000 backflow valve on your sewage pipe to prevent high water from sending sewage up into your bathtubs and sinks. Finally, make sure you have a working sump pump and backup batteries, and remove processed wood or other mold-friendly materials from your basement, says Arthur Bradley, author of "The Handbook to Practical Disaster Preparedness for the Family."
Check your policy's payout. Your home's market value may have dropped, but that doesn't mean you need less coverage, says Schneller. Your insurance should cover the cost of building a new home from scratch -- a figure your agent can give you. It's worth paying extra for guaranteed replacement coverage or an inflation guard, which protects against higher-than-expected rebuilding costs.
Buy the right extras. If you live in an area with high risk of, say, hurricanes, you'll probably need to pay for additional protection, either with a higher premium or an additional rider. Flood insurance must be purchased separately through the government's National Flood Insurance Program (see fema.gov). To lower your premium, bump up your deductible and call around; insurers are competing hard and may give a deal to new customers.
Ease the claim process. To file a claim, you must list the property that was damaged or destroyed. In the aftermath of a catastrophe, it can be hard to remember what you had. Take a video camera through your house; record your possessions and zoom in on collectibles, jewelry, or other valuable items, says Howard Mills, a director in Deloitte's insurance group. Make a copy and store it somewhere outside your home. You can put it in a safe-deposit box -- well out of reach of any type of calamity.
The cost of protection
If you live in an area prone to a specific disaster, it's worth paying for extra coverage to insure against it.