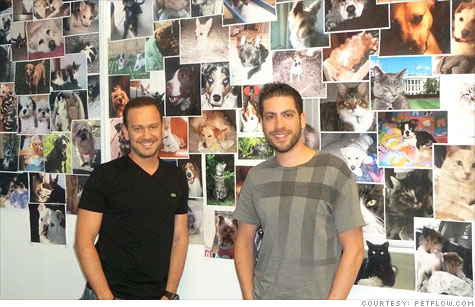 PetFlow.com co-founders Alex Zhardanovsky (L) and Joe Speiser hang photos of their customers' pets.
NEW YORK (CNNMoney) -- Alex Zhardanovsky and Joe Speiser created a multimillion-dollar pet supply company on a pet peeve: ordering and hauling around pet food.
PetFlow.com, a New York City-based online pet supply retailer, recently started making $1 million in monthly sales. And it is less than a year and a half old.
The firm -- which launched in March 2010 and took its first order in July of 2010 -- has two plaques on the wall: one commemorating hitting $250,000 in monthly sales in November and another marking $1 million in sales in May.
But hitting the $1 million mark was just a stepping stone for Zhardanovsky.
Upon reaching the benchmark, "we felt that we had a lot more work to do," he said. "It is a nice milestone to hit, but it is not a number that you focus on. Just by hitting that number, you haven't achieved much." Since May, PetFlow.com has grown by another 30%.
Hitting a million dollars is not a first for Zhardanovsky. He and Speiser started an online advertising company in 2000 that surpassed $100 million in annual revenues in five years. In 2005, the co-founders sold 40% of their stake in EpicAdvertising.com, then called AzoogleAds, to TA Associates and Stripes Group, a private equity firm. They used some of the $48 million to start PetFlow.com.
PetFlow.com is a FreshDirect for pets. It offers an "auto-replenishment" system, which allows customers to get cat and dog food, treats and accessories delivered automatically on a regular schedule. Shipping is $4.95 for orders up to $59 and free for orders that are more expensive. Almost nine out of 10 customers are women who are not fans of hauling huge bags of pet food around.
By year-end, the owners hope to add more products for a wider range of pets.
Trish McAndrews lives in Manhattan with her English mastiff, Quincy Jones, which weighs between 200 and 210 pounds. She gave PetFlow.com a try because a friend works there. Now, she's hooked. To feed her furry friend, she gets a 30-pound bag of Holistic Select lamb and a few treats delivered every three weeks.
"He goes through his food quickly," said McAndrews, so having the heavy bags of food delivered is ultra-convenient.
Between 50% and 60% of PetFlow.com's customers sign up for the auto-replenishment service, so each customer is valuable. "It costs us about $50 to acquire a customer," said Zhardanovsky.
But once PetFlow.com gets a customer, it works hard to keep him or her. "They are really good, nice, kind people," said McAndrews. "It is a really small-town customer service mentality."
Flying into the wind: When Zhardanovsky and Speiser initially met with pet food suppliers to negotiate bulk wholesale contracts, they were unable to get great rates.
The memory of Pets.com, an online pet food company that famously failed, made many in the industry unwilling to cut deals with the startup.
"Their initial response was 'Sure, sure, sure, we have heard it all before,' " said Zhardanovsky. "They basically shrugged it off."
Even with big box brick-and-mortar retailers PetCo and Petsmart on the scene, Zhardanovsky saw enormous room for an online pet supply company. He's also a dog owner who knows firsthand how much of an inconvenience it can be to order pet food regularly.
The entrepreneurs put $5 million in seed money in the business anyway, believing that their web advertising know-how would give them a leg up.
"When you think about starting a new business, I strongly believe that if you over think everything, you will never actually do it," said Zhardanovsky.
So far, the risk is paying off.
The startup received $10 million in venture capital from Lightspeed Venture Partners, the same firm that backed daily-deals site LivingSocial and online women's shoe retailer ShoeDazzle. While PetFlow.com isn't profitable yet, they expect to break even in the first quarter of 2012.
Big market to chase: The pet industry has been on a steady climb for more than a decade. It was $17 billion in 1994 and has since risen to $51 billion this year, undisturbed by the downturns in the economy, according to the American Pet Products Association (APPA), a trade organization.
"Through the recession, through these tough times, people are finding that some of the most calming things are their pets," said Bob Vetere, president of the APPA.
A few generational trends are also adding to the increasing "humanization" of pets, said Vetere. Baby-boomer parents whose children have left home tend to dote on their pets. So do young professionals who delay getting married and having kids. People who spend a lot of time alone or who work from home also lavish a lot of attention on their pets.
Older pet owners who don't use the computer a lot are less likely to order their pet food online, said Vetere. But PetFlow.com's business model has a higher possibility of success with younger and more tech-savvy people.
Take K'La Albertini, from Champaign, Ill. She heard about PetFlow.com on actor Jason Mewes' twitter feed. Her four cats have what she described as "a fairly specialized, expensive diet." She spends $300 every five weeks for six packages of Nature's Variety Instinct, grain-free rabbit and duck food and some cat litter.
As a nurse that works nights, Albertini is often sleeping when pet stores are open. "Knowing that it is coming every month, on time, is a huge relief," she said. "I go to classes on top of working, so the convenience factor is off the scale."
PetFlow.com won't win over all of the pet-owning public, but "you don't need a big percentage of $50 billion before you are a total success," said Vetere.