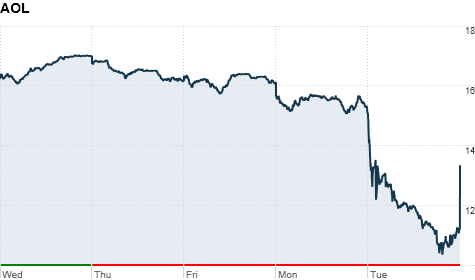 Click the chart for more on AOL stock.
NEW YORK (CNNMoney) -- The past few days have been a sob story for stocks, and AOL needs even more tissues than most.
Early Tuesday, AOL (AOL) reported a surprise loss of 11 cents a share for the second quarter. Revenue fell compared to last year and came in below Wall Street estimates.
AOL shares plunged almost 26% Tuesday, ending at a fresh record low of $11.19 a share, even as the broader market rallied from Monday's steep sell-off. The stock fell as low as $10.31 earlier in the session.
CEO Tim Armstrong tried to put a good spin on things, focusing on the company's global ad revenue growth. Global ad sales rose 5% in the quarter that ended June 30 -- the first overall gain in that area since 2008
But that growth wasn't enough to offset AOL's declining revenue from its fading subscription business, which sells dial-up Internet access and other online services. AOL's total revenue came in at $542 million, down 8% from the same quarter last year.
Investors and analysts focused on the display ad sector, which grew 14% compared to last year -- less than expected. International display revenue fell 10%, and search ad revenue also disappointed.
Sluggishness in display ads has hit AOL's rivals, including Yahoo, but the lackluster AOL figures underscore the obstacles slowing down Armstrong's turnaround plan.
AOL has been busy buying up companies and trying to shed its reputation as an outdated Internet portal. The splashiest purchase came earlier this year, when AOL unloaded 40% of its cash to buy The Huffington Post.
Despite the reinvention efforts, investors continue to punish the stock. Shares are down almost 47% year-to-date, and last week they closed at what was then an all-time low.
It's all a far cry from 2001, when then-powerhouse AOL took over Time Warner in 2001 for $111 billion. By late 2009 -- when Time Warner (TWX, Fortune 500) (the parent company of CNNMoney) spun off AOL and unwound what's now considered one of the worst mergers in history -- AOL was worth only $3 billion.
By 2009, AOL's dial-up Internet subscriber base had dwindled, and it was merely an also-ran in Internet traffic and advertising -- behind competitors Google (GOOG, Fortune 500), Yahoo (YHOO, Fortune 500) and Microsoft (MSFT, Fortune 500).
Armstrong, a former Googler, took the AOL helm in March 2009. As he buys up smaller companies, he's also deciding what content still fits into his vision for the new AOL. The company has been investing in sites like Patch, AOL's hyperlocal blog network, while unloading services including instant messenger ICQ.
Much of the company's success will hinge on the HuffPo buy, though Armstrong has insisted that the move was "not a Hail Mary" -- that the company has a focused, cemented plan.
But judging by the stock performance, investors remain skeptical.