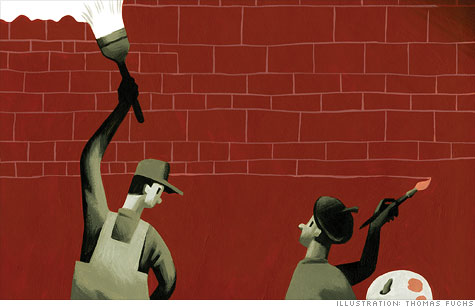 hire a professional painter
(MONEY Magazine) -- Done right, an exterior paint job is a smart investment: It will protect your home from the elements, help defer costly repair work, preserve your property value, and add curb appeal. Plus, if your existing paint is peeling, cracking, or bubbling, delaying the job will only cost you more.
The painter
Make the results last as long as possible -- and maximize the number of years before you open your wallet again -- by basing your hire on five key factors.
Get referrals from friends and tradesmen and check reviews on angieslist.com. Then ask three painters for written bids. Focus on details other than price, which may range from $4,000 to $10,000.
The job will only be as good as the surface prep, says Debbie Zimmer of the Paint Quality Institute, so compare how each painter promises to wash, scrape, and sand.
The paint
Before you choose, check out the exteriors of former customers' homes; it's worth hiring a pricier pro for a good result. And ask to see the painter's liability and workers' comp insurance (plus EPA lead-safe certification if your house is pre-1978).
The bid should include a coat of primer on any exposed wood and two coats of finish paint on everything.
"Eighty percent of your cost is labor, so maximize that investment with the longest-lasting paint you can get," says V.C. "Bud" Jenkins, professor of paint chemistry at Cal Poly Pomona.
Any brand of paint will do as long as it's the company's premium line, says Jenkins; that ensures that it's 100% acrylic (cheaper ingredients don't wear as well) and contains mildew-cides and other additives.
The tools
A spray gun is quick, but it doesn't press paint onto the surface. That hinders adhesion on wood siding, shortening the life of the paint job, says Bob Cusumano of the Painting and Decorating Contractors of America.
For wood siding, make sure the painter will use brushes or rollers -- or at least will brush or roll after the sprayer.
The warranty
It's not the length of coverage that matters most. "If there's a flaw, it's going to show up within a cycle of the seasons," Cusumano says. So a one-year warranty is fine, as long as it states that the painter will fix any issues (such as bubbling or peeling) without exclusions.
For added safety, Cusumano recommends writing in "Contractor is responsible for adhesion of previously applied coatings" to clarify that underlying problems are his responsibility to fix.
The maintenance
Though most paint jobs last five to seven years (depending on your climate and the age of your house, among other factors), regular maintenance might extend that to 10.
So choose a painter who is willing to come back yearly to touch up worn or peeling areas. That will cost a few hundred bucks per visit but save a bundle in the long run.