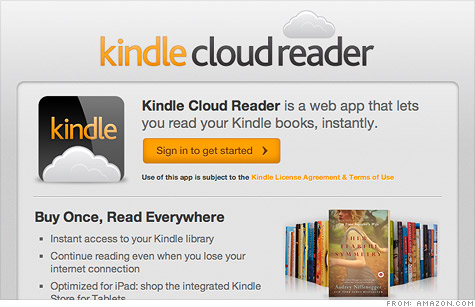 NEW YORK (CNNMoney) -- Amazon is sidestepping Apple's strict new in-app purchasing rules for the App Store with three simple words: to the cloud.
On Wednesday Amazon (AMZN, Fortune 500) launched the Kindle Cloud Reader, a Web-based app that lets customers read their digital Kindle books using only a browser -- online or offline.
The Cloud Reader also includes a "shop in Kindle Store" button, a feature that Apple (AAPL, Fortune 500) recently forced Amazon and other publishers to remove from their apps.
Amazon built its new Kindle Cloud on HTML5, an emerging Web standard that brings mobile-app-like functions -- video, offline reading, touch and gestural interaction -- to regular Web browsers.
The move comes after Apple imposed strict new mandates for in-app payments and subscription links on apps made available in its App Store.
Apple's goal is to steer more of the revenue for content purchases through its own in-app payment system, which typically nets Apple a 30% cut of the sales. Apple laid out the first version of its controversial new rules in February, but then quietly softened them in June after massive blowback from publishers.
But even the softened rules prohibited apps that include "external mechanisms for purchases ... such as a 'buy' button that goes to a web site to purchase a digital book."
Within a few weeks of the June 30 deadline, several companies had changed their apps to get in compliance with Apple's new rules. In addition to Amazon -- which caved almost a month after the deadline -- Kobo and Barnes and Noble (BKS, Fortune 500) also removed their "shop" buttons. Hulu changed its iPad app to remove a link to its website.
An Amazon representative said the company will not pull its iOS Kindle app from Apple's App Store, and that Kindle Cloud was not a direct response to Apple's new rules.
As publishers grow tired of changing their apps to comply with Apple's -- or any app store's -- new rules, HTML5 represents an attractive prospect. Keep it all on the Web, and you're not beholden to anyone.
The Financial Times and ESPN have each built new mobile apps in HTML5.
Amazon didn't name Apple in its press release, but it did take pains to specifically point out one of the Kindle Cloud's features: "Without even leaving the app, customers can start shopping in the Kindle Store."
The Kindle Cloud Reader is available starting Wednesday for Safari on iPad, Safari on desktop and Chrome. The app will come to more browsers -- including Internet Explorer, Firefox and the BlackBerry PlayBook browser -- in the coming months.