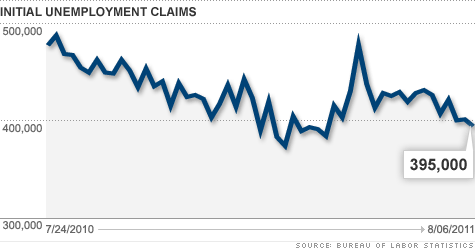 The number of first-time filers for unemployment benefits fell to 395,000 last week, the first time since April the figure has fallen below 400,000.
NEW YORK (CNNMoney) -- At a time when the economy seems to be hanging by a thread, the Labor Department reported at least some better news about the job market Thursday.
The number of first-time filers for unemployment benefits fell last week, dipping below 400,000 for the first time in four months.
There were 395,000 initial unemployment claims filed in the week ended Aug. 6, the Labor Department said, down 7,000 from an upwardly revised 402,000 the prior week.
The figure beat economists' forecasts for 409,000, according to consensus estimates from Briefing.com.
"It's a good sign," said Brett Ryan, U.S. economist with Deutsche Bank. "The trend in claims is going to be one of the most important things we watch over the next few weeks or so, to gauge whether we're entering another recession."
Initial claims had shown improvement in the begining of the year, but then hit a speedbump in April as businesses held back on hiring in response to rising gas prices and the Japanese earthquake and tsunami.
As a result, the initial claims figure had stayed above 400,000 for four months.
Economists often say initial claims need to fall below that level before job growth is strong enough to put a dent in the unemployment rate.
By looking at the four-week moving average, which smoothes out volatility, economists can tell the figure is now trending downward -- a welcome sign given alarming forecasts about the U.S. economy possibly slipping into a double-dip recession.
"The economy is in a pretty precarious spot right now, and the probability of a recession has gone up just in the last few weeks," Ryan said. "However, if these high frequency data points can manage to hang in there, and businesses decide to wait it out and not layoff workers, then there's a good chance we can avoid another recession."
Ryan said he will be closely monitoring weekly reports on initial claims, chain-store sales and consumer confidence readings, to gauge whether a second recession is truly in the cards.
"What we're worried about is that the recent sell-off in global stock markets is going to have an impact on business sentiment and on consumer sentifiment," he said. "If you're a CEO and you see your stock price get chopped by 25%, you suddenly become less likely to hire people."
Continuing claims -- which include people filing for the second week of benefits or more -- fell by 60,000 to 3,688,000 in the week ended July 23, the most recent data available.
That was better than economists' forecasts for 3,700,000.
The current unemployment rate is 9.1%.