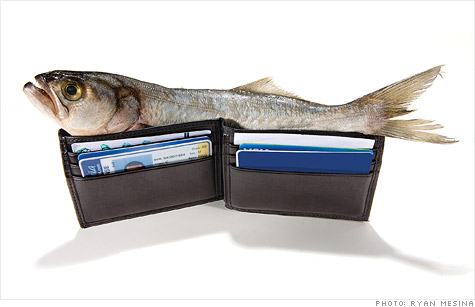 investing in niche etfs
(MONEY Magazine) -- History says that if you show enough interest in an investment, the financial industry will keep churning out newer versions, even after it has run out of sensible ideas. Think back to the late '90s, when mutual funds were hot and fund companies came up with "theme" funds -- remember the StockCar Stocks index fund, which bet on NASCAR-related businesses?
Well, exchange-traded-fund providers, which have attracted $433 billion since January 2008, have reached a similar point.
Want proof? The latest entry is an ETF that exposes you to ... fish. Rest assured, the Global X Fishing Industry ETF (FISN) is diversified -- it invests in firms tied to commercial fishing and fish farming. Global X also launched the Farming ETF (BARN) and a fertilizer fund (SOIL) for those who prefer solid ground.
Too agrarian? There's the First Trust NASDAQ CEA Smartphone Index (FONE), which bets on makers of iPhones, BlackBerrys, and the like. There's plenty more. As a recent slogan from iShares says: "We'll stop making ETFs when you stop having ideas."
Before you challenge the industry to follow through on that promise, though, ask yourself the following questions:
Why is it coming out with these narrowly cast funds now?
Chances are, it's because the themes have been on a huge roll. Cermaq ASA, which makes fish feed and is a top holding in FISN, has doubled in value in less than two years. Potash Corp., (POT) which is a leading fertilizer maker and is in SOIL, has returned 33% a year over the past 10 years. Both businesses help feed the rapidly developing emerging markets, whose stocks have been hot for a decade.
Have a question about your finances? Send the Help Desk your questions.
Since it can take years to launch an unusual ETF, the funds could be a sign that this run is nearing an end (since early April, emerging-market stocks have fallen 9%).
Is the ETF likely to survive?
A new ETF that tracks a narrow theme or industry faces steep odds of survival. Many don't attract enough assets to be profitable (typically, that's about $50 million). More than 50 ETFs have been liquidated since January 2010, including the JETS Dow Jones Islamic Market International index fund.
Does it fit your strategy?
When you're tempted by a new investment, it's easy to lose sight of the big picture, which is your overall asset mix.
Be honest: Do you really think what your 401(k) needs is more fish or fertilizer? Matt Hougan, senior editor of IndexUniverse.com, says there's a timeless lesson here: Be wary of putting any money in a brand-new fund, especially if it's designed to capitalize on the latest trends.
Sure, the StockCar fund may have sounded intriguing when it was launched in October 1998 amid a national NASCAR craze. But with only around $6 million in assets at its peak, the fund ran out of gas and was liquidated last year.
Has all of the market turmoil prompted you to move all of your retirement investments into cash or postpone retirement? If so, we'd like to hear from you. If you'd like to share your story with CNNMoney, email realstories@cnnmoney.com.