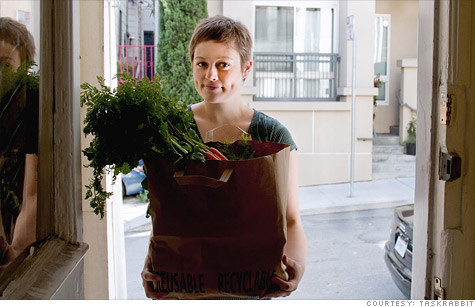 Ellie MacBride, San Francisco literary magazine editor, picks up extra cash running errands posted on TaskRabbit's website.
(CNNMoney) -- Dread disposing of the kitty litter? Too lazy to write a love letter? A new wave of startups lets you outsource such chores to strangers.
The fledgling companies, including TaskRabbit, Agent Anything and Zaarly, let you turn your neighbors into personal assistants, spontaneously tapping people in your community to perform jobs that are as self-indulgent and arbitrary as you wish.
Taskmasters have paid gofers $200 to wait in a long line for a new iPad and $60 to set up Ikea furniture. One man in Austin shelled out $100 for a late-night cheeseburger delivery. Another offered $10 to have someone write a thank-you note to his parents.
"It's regular people calling on regular people," explains Bo Fishback, the founder and CEO of Zaarly.com, one of the newest of these task-oriented startups. The 10-employee San Francisco company launched in March and landed $1 million from investors, including actor Ashton Kutcher, former Google (GOOG, Fortune 500) exec Paul Buchheit and Silicon Valley venture firm Felicis Ventures.
To use Zaarly, clients provide their locations, propose tasks and deadlines, and state how much they're willing to pay. Zaarly broadcasts each message on its website, on Twitter and on its smartphone app. Tasks appear on a map, labeled with dollar signs, inviting applicants to respond and say why they're right for the job.
Zaarly posts go beyond errands. They've included requests to buy a used saxophone or (unused) Broadway theater tickets, or to pay for an experience like riding in a car that goes from zero to 60 miles per hour in four seconds. That person offered $50 to go for a spin.
Zaarly connects individual buyers and sellers over the phone through an anonymous party line. When a match is made, the two people can arrange to meet face-to-face to complete the transaction.
Zaarly takes a 9.9% transaction fee for processing electronic payments through its system, but users who opt to exchange cash instead avoid the surcharge. About 40,000 people are now using Zaarly in Boston, Chicago, Los Angeles, New York, San Francisco, Seattle and Washington D.C. Fishback says the service should be available nationwide by the year's end.
Zaarly is one of a gaggle of on-demand errand services that have appeared in the last six months, capitalizing on the rise of mobile apps, GPS technology and social networking. Each has its own twist. They range from Agent Anything, which enlists 1,800 students at Columbia University and New York University to do "missions" for New Yorkers, to Chicago-based AirRun, a new smartphone app for connecting seekers and fetchers nationwide. Virtual concierge site FancyHands.com offers monthly $35 to $55 subscriptions that allow you to outsource a monthly quota of 15 tasks that can be done remotely, such as scheduling a Friday haircut or putting together a spreadsheet.
Israeli startup Fiverr.com lets users post what they'll do for $5, whether it's making a 30-second video or getting "Yucko the Clown" to prank call and yell at your friends. Another startup in San Francisco called HeyNeighbor.com launched in early July to connect neighbors for free or paid favors like watering your plants or moving a couch.
Critics worry about the safety of such peer-to-peer networks, pointing to the spate of crimes perpetrated using Craigslist.
Startup executives, however, see the biggest challenge in just getting enough users on both sides of the equation -- the pool of both bidders and gofers -- to make their services worthwhile. TaskRabbit and HeyNeighbor are tackling the problem by focusing on key major markets, while AirRun is taking a go at building a national brand immediately.
None of the startups contacted for this article would disclose their revenues. All believe their business models will prove profitable. To get there, they'll need to spark widespread adoption of their services, to the point where each task can reach a small army of willing and well-situated gofers.
Zaarly and TaskRabbit intend to make money immediately their peer-to-peer economy with transaction fees. That revenue model will be key to survival, says Jake Wengroff, social media research director at Frost & Sullivan.
"There's going to be a shakeout," he says. "There's probably room for at most three providers."
It will be especially tough if after their initial meetings, buyers and sellers decide to then work together privately offline, he says. "That revenue will disappear," Wengroff says.
None of the gofers are making a living off performing such services yet, according to Zaarly's Fishback -- though he knows two college students who decided to bid for Zaarly tasks instead of getting traditional summer jobs.
These services don't foster your typical master-servant relationship. Many of those who run errands or find what others seek are also posting their own wants and needs.
Laura Horn in San Francisco is among them. After hearing about TaskRabbit from friends on Facebook, the consumer products manager used it for a handful of errands, paying $15 for someone to pick up medicine from the drug store and $12 for a delivery of her dry cleaning.
Six weeks later, the 42-year-old decided to do the bidding for others as a "rabbit" as well. She has since done more than 50 chores for people, including taking people to the airport for $35 and finding a permit for a family to hold a birthday party in a local park for $20. It's sort of a hobby that brings in some extra spending cash.
"In some ways TaskRabbit fills my need to help people and satisfy a fast-pace life I like to keep," Horn says. "I want to keep moving, and I like the variety."
To become a rabbit, Horn filled out an online application, did a phone interview and passed a background check. TaskRabbit now has 1,000 "rabbits" like Horn and 20,000 users who post their tasks in Boston, New York, Los Angeles and San Francisco, says founder and CEO Leah Busque. The company, which started in 2009, has raised $7 million from investors.
Busque declined to disclose revenues at TaskRabbit, which gets a 15% cut of jobs that average about $60 a piece. Most of the posts are for errands like delivering groceries, but one woman used the service to find someone to visit her 20-year-old son at the hospital when she was out of town for $25. Another man paid $25 for someone to write a love letter to win back his ex-girlfriend, Busque says. (It worked.)
Then there's Jimmy Lujan, who used TaskRabbit to hire someone to wrap his coworkers' belongings in cellophane as a practical joke. The cost: $120. When his five colleagues came into the office, their desks, lamps, chairs, even pencils and file folders were covered in the plastic.
"It wasn't the best thing for the environment," says Lujan, a computer engineer who works at a San Francisco tech startup. "But it was hilarious."
Lujan has also made more productive use of TaskRabbit. He paid someone $100 to plant an herb garden and $100 to catalog the contents of several boxes of clothes, records and books and take them to a storage unit. He had a vegan milkshake and a rose delivered to his partner for $18, and he hired a woman to haul off a slow cooker, two irons, old clothing and books from his front porch for $60.
"I am one of those people who is willing to pay for convenience," he says. "This idea has been around, but it's the marriage with technology that make it instant and hassle-free."