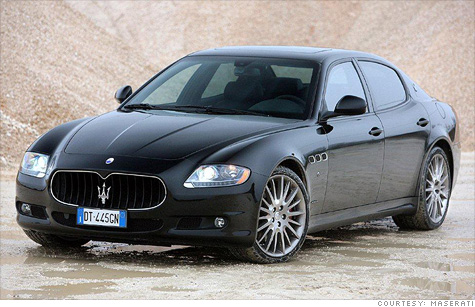 Rear tie-rods on some 2009 Maserati sedans and coupes can fail under hard use, causing loss of control.
NEW YORK (CNNMoney.com) -- Italian ultra-luxury carmaker Maserati is recalling cars in the U.S. to fix a potential problem with the rear suspension.
Maserati is recalling 763 model year 2009 four-door Quattroporte sedans and two-door GranTurismo coupes to fix improperly manufactured rear tie-rods that could fail, causing the driver to lose control of the car. The cars in question were manufactured between July 3, 2008 and September 20, 2008, and account for about 60% of the 2009 Maseratis on U.S. roads.
The tie-rods are especially prone to failure when the car is driven on rough roads or over potholes, according to a letter sent by Maserati to the National Highway Traffic Safety Administration.
Maserati said it discovered the problem as it monitored repair reports on the models, according to the letter. It was not clear if any accidents or injuries had been caused by the problem, and Maserati spokespeople in the U.S. did not immediately return calls seeking comment on the recall.
Maserati expects to begin fixing the cars next month, according to the NHTSA letter.
Maserati, along with Fiat, Ferrari, Lancia and Alfa Romeo is part of Italy's Fiat Group. Fiat Group is also partnered with Chrysler Group of the U.S., and both carmakers are headed by the same man, Sergio Marchionne.
Prices for the new 2009 Quattroporte started at about $120,000, according to AOL Autos, while GranTurismo coupes started at about $118,000.