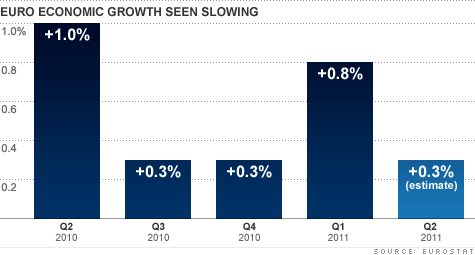 NEW YORK (CNNMoney) -- As officials in Europe struggle to contain the debt crisis roiling financial markets around the world, economic growth appears to be slowing significantly across the euro zone.
Eurostat, the European Union's statistical office, is scheduled to release estimates Tuesday on second-quarter gross domestic product for the economic and monetary union as a group.
Economists expect the report to show that economic growth among the 17 nations that use the euro grew at 0.3%, according to several private sector forecasters. In the first quarter, the so-called euro area economies reported combined economic growth of 0.8%.
The report will also contain GDP data for the full 27 member European Union.
France, the second largest EU economy, reported last week that activity stalled in the second quarter. Economic growth in Belgium also slowed from the preceding quarter.
Enam Ahmed, a senior economist Moody's Analytics in London, said a slowdown in Europe would be consistent with signs the global economy is losing momentum.
The U.S. economy, for example, grew at a tepid 1.3% rate in the second quarter, according to government data released last month. The first-quarter growth rate was revised down to a mere 0.4%, the government said.
Japan's gross domestic product shrunk by 0.3% last quarter, according to a government report Monday. But the decline was smaller than expected and many investors viewed this as a sign Japan is recovering quickly from the devastating earthquake and tsunami in March.
Ahmed said the EU economy, in particular Germany, had been supported earlier this year by strong demand for exports. But that demand has weakened recently as rapid growth in emerging economies has cooled.
"Over the last few months there have been clear indications the global economy is slowing down, and that's a key concern for countries like Germany," said Ahmed. "Exports have played a big part in German recovery, and hence the euro recovery, but we're not convinced that domestic demand will take over for exports."
In addition to the downturn in global growth, the European economy has been hit by a spate of extreme volatility in financial markets as investors grapple with fears of a runaway debt contagion. But stocks in Europe and around the world edged higher Monday as investors waded back into the market after last week's wild swings.
Analysts also said growth has been undermined by a loss of confidence in the ability of EU policymakers to address the long-term debt problems facing troubled members, such as Greece, Ireland and Portugal.
Investors cheered a move by the European Central Bank last week to buy government bonds issued by Spain and Italy, which have come under pressure amid worries about unsustainable public debt loads and weak economic prospects.
European regulators also imposed a temporary ban last week on short selling in France, Spain, Italy and Belgium. The move is intended to tame market volatility by preventing speculators from betting against shares of public companies.
In particular, shares of many French banks, including Societe Generale and Credit Agricole, were in free fall. The selling was driven by concerns about the banks' exposure to Greek debt, as well as speculation that the French government's credit rating could be downgraded.
But traders are eager to see European leaders follow through on pledges to implement fiscal austerity, expand the EU bailout fund and take steps to shore up troubled banks.
French President Nicolas Sarkozy and German Chancellor Angela Merkel are scheduled to meet Tuesday in Paris to discuss measures announced last month to contain the sovereign debt crisis and protect the euro.
The EU agreed to a new 109 billion euro rescue package for Greece last month and pledged to reduce interest rates and extend maturities on loans made by the European Financial Stability Fund, an EU program set up last year to provide low-cost loans to troubled countries.
While the agreement was one of the boldest steps the EU has taken to combat the long-running crisis, many details of the plan were left unclear. In particular, many economists say the 440 billion euro stability fund must be greatly expanded, with some calling for funding of more than 1 trillion euro.
However, the meeting between Sarkozy and Merkel is not expected to yield any measurable progress, according to Barclay's Capital analyst Frank Engels.
A statement issued last week by the French government said the leaders will discuss, among other things, "proposals for strengthening the governance of the eurozone."
That is an "important issue," said Engels, "but nevertheless not the most pressing one in the eyes of market participants, which are more focused on the need to lower funding costs for stressed sovereigns."