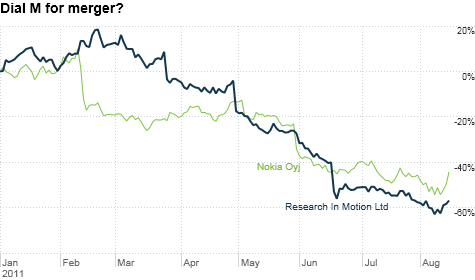 Shares of Nokia and Research in Motion popped on the news of Google's acquisition of Motorola Mobility. But the rally may be short-lived as both companies face big challenges.
NEW YORK (CNNMoney) -- Being the leader in a market is sooooo overrated. Sometimes, it's better to be an also-ran -- because then you get caught up in crazy takeover speculation!
With Google (GOOG, Fortune 500) agreeing to buy/save Motorola Mobility Monday morning for $12.5 billion -- a stunning 63% premium -- investors turned their lonely eyes to the other two big smartphone companies not named Apple (AAPL, Fortune 500).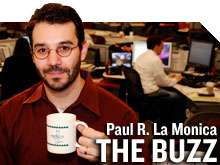 Shares of Ontario-based BlackBerry and PlayBook maker Research in Motion (RIMM) were up 3% in midday trading. And foundering Finnish phone phenom Nokia (NOKA) (three cheers for alliteration!) was up 12% Monday afternoon.
Wall Street is clearly betting that these two are now takeover targets. But are there really any companies that would want to spend tens of billions of dollars, loonies or euros on RIM or Nokia?
It's not likely. That's why both stocks may resume their gruesome slides after the M&A enthusiasm fades.
Yes, both Research in Motion and Nokia each own a treasure trove of patents. And it looks like the intellectual property of Motorola is what it made it so compelling to Google in the first place.
Still, it's unclear if the patent pluses of either RIM or Nokia outweigh the big negatives -- namely their dwindling market share.
You could argue that Microsoft (MSFT, Fortune 500) is a logical acquirer of Nokia. After all, Nokia already has an agreement to start selling phones that run on Microsoft's Windows Phone 7 operating system. And Nokia CEO Stephen Elop used to work for that little software company in Redmond.
But Nokia would be an expensive buy for Microsoft -- or any other company.
Nokia's market value is currently about $22 billion. With Google showing such largesse for Motorola (MMI), one would think Nokia would demand a similar premium in a takeover. That could bump Nokia's asking price to well over $35 billion.
Still, one analyst said that the jump in Nokia's stock Monday makes sense even if Nokia isn't acquired.
T. Michael Walkley, an analyst with Canaccord Genuity in Minneapolis, thinks that other developers of phones running on Google's Android operating system may now be more eager to work with Nokia.
Although Samsung, LG, HTC and Sony Ericsson all issued statements supporting the Google-Motorola deal, Walkley said these companies nigh want to support a viable third alternative to Android and Apple's iOS systems.
What a strange, wonderful world we live in where Microsoft is the plucky underdog.
"Companies like Samsung and HTC may want to hedge their bets and make more Windows phones," Walkley said. "Apple and Google now both own hardware and software. If you're worried about those two having too much power, you may be more likely to support a third mobile ecosystem."
That may be true. But Samsung, HTC and others also have to realize that while they may not like it that Google is getting bigger, it's also in their best interest to make phones that consumers actually, uh, you know, want to use. The jury's still out on Windows phones.
Along those lines, Mark McKechnie, an analyst with ThinkEquity LLC in San Francisco, argues that Apple could capitalize more from any potential turmoil in the Android market than Nokia/Microsoft will.
As for Research in Motion, it's harder to find a potential buyer that may be interested.
McKechnie said that if RIM really wanted to make itself more attractive to a buyer (as well as consumers) it should open itself up to Android and Windows instead of relying mainly on its proprietary BlackBerry and QNX systems.
I guess Dell (DELL, Fortune 500) (which has been rumored to be interested in RIM for years) could make sense. Dell still lacks a significant smartphone/tablet presence. And with HP (HPQ, Fortune 500) marketing the heck out of the assets that it acquired from Palm, that has to make Dell cringe.
RIM's strong presence in the corporate (or "enterprise." if you prefer tech jargon) market could even make the company attractive to like-minded tech behemoths like IBM (IBM, Fortune 500) and Cisco Systems (CSCO, Fortune 500).
But while RIM may be a decent strategic fit for these two, a deal is highly unlikely. IBM seems less interested in gadgets. Remember, it sold its PC business a few years ago. Meanwhile, Cisco shareholders may revolt if the company tried to pull off yet another pricey deal.
And RIM won't come cheap, despite its troubles. Its market value is about $13 billion. Toss in the Motorola premium and you get a price tag of about $20 billion.
Kris Thompson, an analyst with National Bank Financial in Toronto, said that the Google-Motorola deal may set a floor on RIM's stock price. At the very least, the merger could scare away short sellers who don't want to get caught with a bearish BlackBerry bet in case a merger does actually happen.
Still, he said it's tough to get that excited about RIM. The company is hoping that upcoming new phones running on its BlackBerry 7 operating system will help in the near-term.
Getting those shipments made this month should boost revenue for RIM in its current fiscal quarter, which ends in August. But after that, RIM still has many challenges.
"The longer-term outlook for Research in Motion is still pretty precarious," Thompson said.
So in the case of both Nokia and RIM stocks, the rally on Monday may very well be the classic example of how sometimes it's better to be lucky than good.
"I have a 'hold' on both RIM and Nokia, and today's deal doesn't change my opinion on either of them," McKechnie said.
The opinions expressed in this commentary are solely those of Paul R. La Monica. Other than Time Warner, the parent of CNNMoney, and Abbott Laboratories, La Monica does not own positions in any individual stocks.