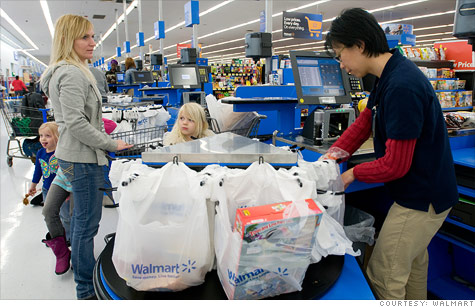 Wal-Mart says customer traffic is still down at its discount stores compared to last year although consumers are starting to spend more during each shopping trip.
NEW YORK (CNNMoney) -- Wal-Mart Stores Inc. suffered a ninth straight drop in its U.S. store sales last quarter, even as it reported earnings and sales in the period that were higher from a year earlier.
Bentonville, Ark-Wal-Mart (WMT, Fortune 500), the world's largest retailer, said Tuesday that sales at its domestic namesake stores open at least a year dipped 0.9% in the second quarter.
This decline marks a protracted slump in the discounter's same-store sales, which is a key gauge of a retailer's performance.
Wal-Mart blamed the continued shortfall in store sales on fewer shoppers flocking to its stores. The retailer said overall customer traffic at Wal-Mart stores was down last quarter compared to the previous year.
The period also included the critical back-to-school shopping season, the second-most important sales event for merchants after Christmas.
However, overall same-store sales at its Wal-Mart and Sam's Club stores were unchanged in the period, helped by a 5% same-store sales gain at the Sam's Club.
"We remain concerned about the economic pressure on our customers and the uncertain impact it can have on their shopping behavior," Wal-Mart's U.S. chief, Bill Simon, said in a statement.
Wal-Mart, which averages 140 million shoppers weekly to its stores in the United States, is considered a barometer of the health of the consumer and the economy.
In May, Wal-Mart CEO Mike Duke told an industry gathering that Wal-Mart's core shoppers, many of whom live paycheck to paycheck and typically shop in bulk at the beginning of the month, were running out of money much faster than a year ago.
As their budgets get more stretched, Wal-Mart shoppers are also changing their buying habits, picking up more groceries and household goods -- such as detergent and paper towels -- while cutting back on non-essential items such as clothing and home furnishings, he said.
Some budget-constrained consumers are also further trading down in prices and skipping Wal-Mart in favor of dollar stores such as Dollar General (DG, Fortune 500) and Family Dollar (FDO, Fortune 500).
Recognizing these shifts in how consumers are shopping at its stores, Wal-Mart this year started to add more groceries and household goods to its shelves and said it would get even more aggressive on prices in order to grab more of its customers' dollars in every shopping trip.
There are some indications that these moves are bearing fruit. Wal-Mart said consumers were starting to spend more money during each shopping trip last quarter.
That helped boost Wal-Mart's second-quarter revenue 5.5.% to $108.6 billion while its earnings from continuing operations rose 5.7% to $3.8 billion in the period, which ended July 30.
Duke said Wal-Mart's overall same-store sales are slowly starting to improve, although still largely supported by sales increases at its Sam's Club unit.
For the third quarter, Wal-Mart expects same-store sales at its U.S. stores to range from a decline of 1% to up 1% versus a 1.3% drop in the same period a year ago.
Wal-Mart also raised its full fiscal-year guidance to between $4.41 and $4.51 a share.
--CNNMoney's assistant managing editor Mark Meinero contributed to this report.