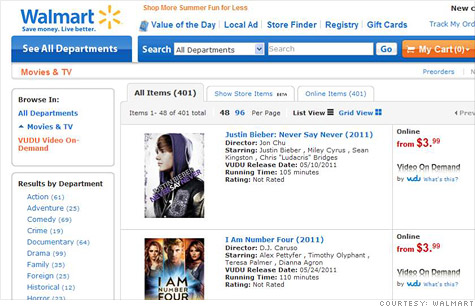 Wal-Mart is taking yet another shot at the movie download business by launching Vudu on Walmart.com.
NEW YORK (CNNMoney) -- Wal-Mart must be hoping that the third time's a charm: It announced Tuesday that it is launching an in-house movie streaming service directly on Walmart.com.
Wal-Mart (WMT, Fortune 500), the world's largest retailer, said it is fully integrating online video service Vudu -- which it acquired last year -- on Walmart.com.
A cloud-based video movie service, Vudu lets customers rent or buy movies over the Internet and stream them to their TVs, Blu-ray players and a variety of Vudu-enabled devices such as Sony's (SNE) PlayStation 3 and HDTVs from LG Electronics, Sharp and Panasonic (PC).
Beginning Tuesday, Wal-Mart said customers on its website can rent or buy a digital movie in Vudu's extensive library, pay for it and stream it directly from Walmart.com, Vudu.com or from a Vudu-enabled device.
The company said movie prices vary depending on whether the content is standard definition or high definition.
Vudu movie rentals on Walmart.com range from $1 to $5.99, while purchases range from $4.99 to $19.99.
Vudu 3D movie rentals range from $3.99 to $6.99, and 3D movie purchases range from $11.99 to $21.99.
Wal-Mart will also offer a daily "movie of the day" to rent for 99 cents on the Vudu platform.
Wal-Mart said every Friday the 99-cent movie of the day rental will be determined by consumers, who'll get to vote on Wal-Mart's Facebook page for the most popular pick among new releases.
Unlike competing services such as Netflix, the Vudu platform on Walmart.com does not offer any subscription service, and the retailer said it does not currently plan to offer such a service.
Shoppers can also buy movies on DVD or Blue-ray discs on Walmart.com.
Vudu general manager Edward Lichty said the service currently has more than 20,000 movie titles and its library is rapidly growing. He adds that movie studios are "very excited" about the service launching on Walmart.com.
Steve Nave, Walmart.com's general manager, was equally enthusiastic, saying the initiative backs up Wal-Mart's assertion that "it is in e-commerce to win and not to play."
Still, it's hard to ignore that Wal-Mart's two prior forays into the movie download business didn't work out.
The retailer abandoned its online DVD rental business in 2005 after it failed to take off. As part of the shutdown process, Wal-Mart directed customers to Netflix (NFLX).
Wal-Mart again launched a video download service in 2006 in partnership with major Hollywood studios and powered by Hewlett Packard (HPQ, Fortune 500). It also quietly shut down that service a year later. Nave said the the second venture failed because one of the vendors pulled out.
But citing Vudu's "strong business model," Nave said he's pretty confident Wal-Mart will be successful this time around.