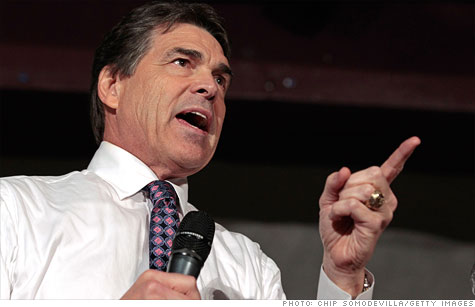 Republican presidential hopeful Rick Perry has gone on a Bernanke-bashing binge this week and is now demanding the central bank "open their books up."
NEW YORK (CNNMoney) -- Texas Governor Rick Perry has been on a Bernanke-bashing binge this week, demanding on Wednesday that the Federal Reserve "open their books up."
That comment comes after Perry said earlier this week that it would be "treasonous" if Chairman Ben Bernanke used Fed policy to stimulate the economy before the election.
But what books exactly does Perry want opened?
The Federal Reserve already publishes its balance sheet online every Thursday for the entire world to see.
Not only that, it is audited regularly. Every year, an external accounting firm audits the financial statements of the Federal Reserve and all 12 of its regional banks. Last year, that firm was Deloitte and Touche, but PricewaterhouseCoopers and KPMG have also done it over the years.
Those financial statements are also posted online.
"Every aspect of the Fed's financial dealings are wide open -- wide open," Bernanke remarked at the National Press Club in February. "There is no sense in which the Fed has secret financial dealings."
Despite that public information, anti-Fed criticism seems to be the latest craze on the Republican campaign trail. On Tuesday, Rep. Michele Bachmann criticized the Federal Reserve for not being "subject to transparency."
Those comments echo similar sentiments from Rep. Ron Paul, a renowned Fed critic in his own right, who over the years has repeatedly called for audits of the central bank and even a review of all the gold in Fort Knox. Paul introduced a bill in the House earlier this year, called the "Federal Reserve Transparency Act of 2011."
Bernanke has repeatedly said he remains committed to transparency, and in an unprecedented move, he began hosting press conferences four times a year, so he could verbally clarify the reasoning behind the Fed's monetary policy decisions.
He has even responded specifically to the calls for an audit, taking issue with his critics' use of the term.
"Now, what 'audit the Fed' means in the language that has been used by some members of Congress, is not about the financials of the Fed," Bernanke said in February. "Rather, it's about, quote, auditing monetary policy," meaning Congress would evaluate the central bank's decisions.
"I think this is very much different from what most people think about, when they think about an audit," he said.
Congress already has some ability to examine the Fed through its own investigative arm, the Government Accountability Office.
In fact, the GAO's most recent report, released in July, investigated the Fed's emergency-lending programs spanning from December 2007 until July 2010.
The Fed also provides insight into its private policymaking meetings, by releasing those minutes to the public, with a three-week lag. After a five-year period, the Fed also releases a verbatim transcript of the proceedings.
Those lags are important, economists argue, because Fed officials need to be able to have a free debate amongst themselves, without worrying that their comments may send the wrong signals to financial markets.
Mark Vitner, senior economist with Wells Fargo, points out that if the Fed became too transparent, investors could front-run the central bank in the stock and bond markets.
"I do think the Fed is being transparent, but they cannot become too transparent," Vitner said. "It's in our nation's best interest to have a strong, effective, independent central bank, and that requires some discretion in certain circumstances."
"When people call for clarity, I think the clarity they want is not feasible," he said.