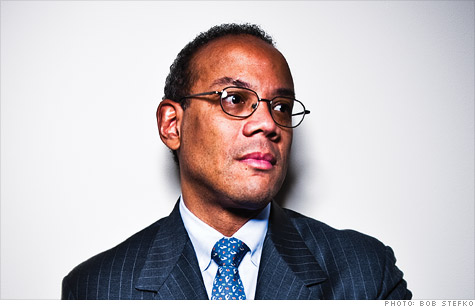 John W. Rogers, Jr., founder of Ariel Investments
(MONEY Magazine) -- Like all "value" managers, John W. Rogers, Jr. wants stocks that are priced cheap relative to their earnings. But a low P/E ratio is just the start.
Rogers, who founded Ariel Investments in 1983, focuses on companies in lines of business that, while perhaps temporarily out of favor with investors, have high barriers to entry. So when times turn good again, Rogers knows there's a strong chance his holdings will prosper.
The strategy has worked: Ariel Appreciation, a member of our MONEY 70 list of recommended funds, has beaten 85% of its peers over the past five years. Rogers spoke with contributor Charles P. Wallace.
The housing market looks as if it has a few more years of decline. Why are you bullish on housing-related companies?
As we move toward 2012, people will realize that housing will inevitably recover. More household formations are happening every year, and there is going to be more demand. Yet there's been so little supply over the past several years that prices will be forced higher.
Among our cheapest stocks, at just 11 times earnings, is Mohawk (MHK, Fortune 500), one of the world's leading producers of carpet. It's selling at about a 35% discount to what we believe it is worth. We also own Newell Rubbermaid (NWL, Fortune 500), which has a plethora of famous products, such as Levolor blinds and Calphalon cookware, you'd find in the home.
We've been looking at homebuilders, but so far we haven't been able to find one that's cheap enough to give us the margin of safety we want.
Send The Help Desk your questions about mutual funds.
Your biggest holdings are CBS and Viacom. What's the appeal?
Viacom (VIA) and CBS (CBS, Fortune 500) have great content, with Nickelodeon and MTV on Viacom and the "CSI" franchise on CBS. Content still matters. I still believe traditional television will do very well, and the content can also be used on the iPod and iPad and other modern technologies. CBS, at just 13 times next year's earnings, and Viacom, at about 12½ times, are extraordinarily cheap on an absolute and historical basis.
In contrast, NBC is owned by Comcast (CCT) and ABC is part of Disney (DIS, Fortune 500), and it's trickier to have the kind of pure play you have with a Viacom or a CBS.
But aren't advertising-dependent companies vulnerable to a downturn?
If the economy were to go into a deep double dip, they would be hurt. But we have a strong feeling from talking to our companies that this recovery is real and sustainable, and the job picture is going to get much, much better as we move through 2012.
Is the U.S. in general a good value?
The S&P 500 is selling at 12½ times next year's earnings. That's cheap on a historical basis. Also, sentiment is so negative and people so cautious that we think there are going to be substantial earnings surprises over the next 15 to 18 months.