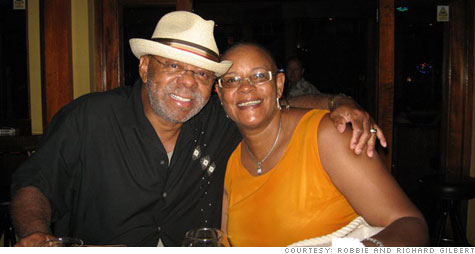 One victim of the Ponzi scheme, Robbie Gilbert (pictured at right), said Tuesday's sentencing of Thomas Mitchell was "a happy day." But many of Mitchell's victims were in tears in the courtroom.
NEW YORK (CNNMoney) -- Even after the man who stole 67-year-old Frances Wills' entire life savings was sentenced to nine years in prison, she still didn't feel as if justice had been served.
On Tuesday, Wills sat in the courtroom as Thomas Mitchell was sentenced to nine years in prison by a federal judge in Los Angeles for running a 15-year Ponzi scheme targeting a community of 150 retired train and bus drivers in the L.A. area.
Mitchell will begin his sentence on Sept. 23. But it may take longer for Wills -- who still can't sleep at night or stop crying -- to move on.
"I'm still hurting inside," she said. "Nine years is not enough for what he's done to all these people. We want him to suffer like we suffered."
Even though Mitchell was found guilty, it's likely that his victims may never see a dime of the more than $7 million that he stole from them. Mitchell claims he no longer has any money, so he is unable to pay restitution.
That means the victims will be out of luck unless the government discovers that Mitchell hid the money somewhere, or he wins the lottery or falls into an inheritance while in jail. In any of these cases, whatever money is recovered would be distributed among the victims.
The chances of any of these scenarios happening are very slim, said Harvinder Anand, assistant U.S. attorney for the Central District of California and the prosecutor assigned to the case.
"It looks like there's just no money to be had, so there's nothing we can do," said Anand. "It's sad because many of these people are in terrible, terrible circumstances."
He said that the United States Attorney's Office in Los Angeles is trying to determine whether there is way people can make donations to the victims.
Victims of Bernard Madoff's Ponzi scheme managed to get some of their money back from the Securities Investor Protection Corp., an insurance fund financed by brokerage firms that covers up to $500,000 in losses for individual investors. But SIPC funds are typically granted when a member brokerage firm fails to pay its customers.
Unfortunately, Mitchell's fund wasn't a SIPC member. While the victims know that they may never see a penny of their life savings again, many have yet to come to grips with that reality.
"I used to get up at 2:30 a.m. to get to work driving my bus," said Wills, who lost the $156,000 she had saved from her job as a Long Beach Transit bus driver for 23 years. "And then for him to just take it out of greed -- I want to know: What did he do with our money?"
The judge at Mitchell's sentencing invited victims to tell their stories in court. One woman took 30 pages of notes with her and didn't leave until she was completely done. Others were such emotional wrecks they couldn't stand to address the court.
"The whole courtroom was full of tears," said Wills. "All Mitchell did was sit there and look stupid. There were a lot of people in there who wanted to slap him upside the head."
According to court documents, Mitchell promised his clients returns of up to 12.5% on their investments to lure them in, but would then only invest "a miniscule fraction" of their money. He would make monthly payments to keep his clients from worrying -- and which many used for living expenses.
But Mitchell meanwhile used the rest of the money his clients had invested for himself. By the end, he didn't even have enough money to pay his victims the monthly stipends.
Wills relied on those monthly checks from Mitchell. When they stopped coming, she had to sell her home and move into a mobile home. She can't afford to pay her bills or fix her broken-down car. And she had to apply for food stamps a few weeks ago and now asks her children to help her out.
Wills would get another job but said she has several medical conditions, including severe arthritis, that have kept her bedridden throughout the past year.
Some of the other victims duped by the Ponzi scheme include Bobby Bradley, a 70-year-old retired bus driver who lost his life savings of $215,000 and is now looking for work again.
An MTA service attendant, Charles Black, said he watched 23 years of his life go down the drain when he found out his entire retirement stash -- $250,000 -- was gone.
Mitchell's own cousin, Robbie Gilbert -- who lost $150,000 in retirement savings to Mitchell -- wasn't able to make it to the sentencing. But she said the fact that he will be behind bars for the next nine years is enough to ease her anger for the time being.