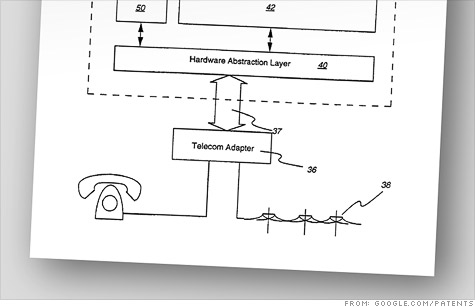 U.S. Patent No. 6,343,263, which Apple successfully used to sue HTC for infringement.
NEW YORK (CNNMoney) -- Patents have dominated the tech news headlines lately, with industry leaders such as Google, Apple and Microsoft spending billions to beef up their intellectual property portfolios.
Google (GOOG, Fortune 500) said its surprise $12.5 billion bid to purchase Motorola Mobility (MMI) on Monday was made in part to protect its mobile business from rivals' patent-related lawsuits. Earlier this month, Apple (AAPL, Fortune 500), Microsoft (MSFT, Fortune 500) and others bought patents from the bankrupt Nortel for $4.5 billion. Google also purchased a bundle of more than 1,000 IBM (IBM, Fortune 500) patents last month, for an undisclosed price.
The patent-buying craze has lifted shares of down-in-the-dumps tech companies like Eastman Kodak (EK, Fortune 500), InterDigital (IDCC), Alcatel-Lucent (ALU), Nokia (NOK) and Research In Motion (RIMM). Investors believe that they too could be patent-related takeover targets.
What's going on here?
"In terms of patent-related acquisitions, I think there's a bubble," said Florian Mueller, an independent intellectual property analyst and consultant.
Patent buys are particularly popular in the telecom space, because the fast-growing mobile device market is fiercely contested. Massive players like Google, Apple, Microsoft, RIM, Nokia, Samsung, HTC, LG, Hewlett-Packard (HPQ, Fortune 500) and many others are all jockeying for position to take advantage.
One way for those companies to gain ground is to sue rivals, claiming patent infringement. The battles are nasty, expensive and lengthy -- but the victory prize can be massive.
Apple, for instance, recently found itself on the losing end of a patent-related legal fight with Nokia. After almost two years of wrangling, Apple agreed in June to end the battle with a one-time payment of more than $600 million to the Finnish mobile giant. Apple will also pay Nokia royalties for each iPhone sold.
"Patents used to be thought of as an insurance policy," said Lewis Lee, a partner at intellectual property law firm Lee & Hayes in Spokane, Wash. "Today, top companies are building patents into their business strategy. By filing for and buying up others' patents, intellectual property is now material to companies' position in the marketplace."
In other words, filing for patents was once a defensive strategy. Now accumulating patents is a tool for offensive attack.
It's especially effective in the technology space because patent claims on intangible assets like software are much more subjective than those on physical assets like manufacturing equipment. In the mobile field, the complexity and sheer number of patents attached to each device or system allows for an increasing amount of litigation.
One single smartphone -- like an iPhone or an Samsung's best-selling Galaxy S II, an Android-based phone -- can involve as many as 250,000 patent claims, according to Google.
Companies don't even have to use modem patents to successfully claim infringement. Last month, Apple won a lawsuit against HTC, which was found to have violated two patents in its recent smartphones. Apple was issued those patents for its Macintosh computers in the mid-1990s.
The mere threat of patent lawsuits can be an effective strategic ploy. Defending against litigation, even in relatively small cases, can cost millions of dollars in legal fees. An offer to settle, even for a large fraction of the cost of litigation, can be a better business decision than defending patents in court.
That ever-looming threat explains why tech companies are spending billions to bulk up their patent portfolios of patents. Google would pocket more than 17,000 patents from its Motorola purchase. Apple, Microsoft and their partners snagged 6,000 Nortel patents in their recent deal.
But with patents, there isn't necessarily safety in numbers.
Motorola's portfolio, despite its large size, is filled with patents that have already been licensed out to its rivals, Mueller said.
"Everyone who is a long-term player in the industry has at some point sorted out patent issues with Motorola," he said. "Don't expect that Google can use all 17,000 patents in an attack to defend Android."
By contrast, the Nortel patents were particularly valuable because they lacked licensing commitments: Nortel's previous business agreements got cleared away in its bankruptcy. (In advance of the Nortel auction, Microsoft claimed its own Nortel licenses should survive any ownership transfer on the patents. It's a legal gray area, and a point that became moot when Microsoft became one of the winning bidders.)
All of this means that for the moment, patents are the tech industry's unobtainium: an incredibly valuable resource companies will throw around mind-boggling sums to control.
Kodak and InterDigital spent decades building multi-billion-dollar businesses with thousands of employees and lots of tangible, real-world assets. But in the end, their most valuable possession may be the stacks of paper they control in the U.S. Patent Office's filing cabinets.