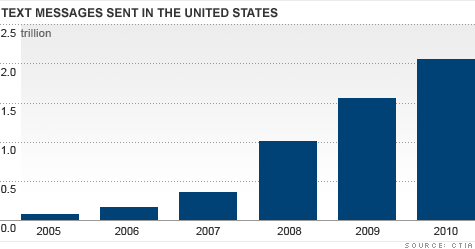 NEW YORK (CNNMoney) -- The smartphone boom is a mixed blessing for wireless companies. While the devices have boosted data plan sales considerably, they are threatening to kill another revenue stream dead in its tracks: text messaging.
Dozens of smartphone applications offer "free" text messaging services, which allow wireless customers to send and receive texts by piggybacking on their existing data plans. That means people who download those apps -- such as GroupMe, Google Voice, Disco, Beluga, Kik and WhatsApp -- are able to bypass the expensive texting plans offered by wireless companies.
What's more, an increasing number of free text messaging services are being baked into the smartphones themselves. Research In Motion (RIMM) offers BlackBerry Messenger, which allows BlackBerry users to text one another over their data plans. Apple (AAPL, Fortune 500) plans to introduce its similar iMessage app in the fall for the iPhone.
And Verizon Wireless embeds Skype onto every one of its smartphones. Skype bought GroupMe on Sunday, in a deal valued at around $80 million, according to several reports. Since Microsoft's (MSFT, Fortune 500) deal to buy Skype will likely close in the coming months, GroupMe could soon appear on every Windows Phone device.
Even Facebook got into the game this month with a free messaging service for phones.
These services threaten to derail the roughly $9 billion in text messaging sales that the U.S. wireless industry brought in last year, according to analysis from UBS and data provided by the CTIA wireless industry association.
"As smartphone penetration increases and applications like WhatsApp take off, we believe high-margin texting revenues could be at risk," John Hodulik, telecom research analyst at UBS, said in a recent note sent to investors.
Texting growth has slowed in recent years, according to CTIA, but the trend has grown more dramatic in recent months. The number of texts sent per U.S. subscriber actually fell for the first time ever in the first quarter, said UBS' Hodulik.
That's a concern to Verizon (VZ, Fortune 500), AT&T (T, Fortune 500) and Sprint (S, Fortune 500), which each offer text messaging plans priced at 20 cents per message or up to $20 per month for unlimited messages.
Those plans are incredibly lucrative for wireless companies: Hodulik estimated that texting charges represent 11% of the average wireless consumer's cell phone bill, and up to 25% of the profit mobile providers make off their customers.
Texting may sound cheap, but it's actually an incredibly expensive way for consumers to send data. Text messages max out at just 160 bytes, which means 20-cents-per-message plans cost wireless customers an astounding $1,250 per megabyte.
Unlimited plans are also a rip off. If a wireless customer sent one text message every minute of every day of every month (44,640 texts per month), at "just" $20 per month, that still works out to $2.80 per megabyte.
By contrast, AT&T and Verizon offer data plans that give customers 2 gigabytes of monthly Internet usage for $25 and $30 respectively. Those plans both work out to less than 2 cents per megabyte.
AT&T led its peers in an attempt to stave off any significant loss of revenue from a decline in text messaging. Last week, the company discontinued its cheaper texting plans, forcing users to either pay per message or subscribe to a $20 unlimited plan.
That may be a first step toward wireless companies requiring smartphone users to buy text messaging plans as part of their service -- the same way they now do with data plans.
"If pressure mounts on messaging, we believe carriers could begin to bundle it with voice service, similar to how they bundled more minutes in voice plans when texting started to pressure minutes of use," Hodulik wrote.
Wireless companies have also largely done away with unlimited data plans (Sprint remains the lone holdout). The new tiered data model means "free" texting isn't quite free, since sending messages via apps uses up customers' valuable data allotment.
Still, as more texters have found a way not to get gouged by their mobile providers, the wireless companies are scrambling to fight back.