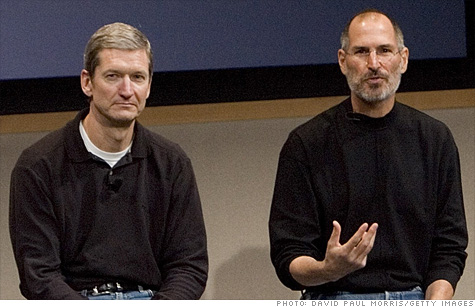 Shares of the most valuable technology company in the world tumble in after-hours trading following news that Steve Jobs has resigned. COO Tim Cook (pictured left) will take over.
NEW YORK (CNNMoney) -- Apple shares tumbled in after-hours trading Wednesday, following news that the company's founder and CEO Steve Jobs had resigned.
Shares fell roughly 5% to $357. Apple was among the most active shares on the Nasdaq market site, with volume of more than 1 million shares traded after hours.
Valued at nearly $350 billion, Apple (AAPL, Fortune 500) is the most valuable technology company in the world and this month briefly knocked off Exxon (XOM, Fortune 500) as the most valuable company, period.
Apple shares were briefly halted in after-hours trading pending news. Soon after, Apple released Steve Jobs' short resignation letter. Jobs will be replaced by former Chief Operating Officer Tim Cook and will stay on as Apple's chairman.
"I have always said if there ever came a day when I could no longer meet my duties and expectations as Apple's CEO, I would be the first to let you know. Unfortunately, that day has come," wrote Jobs, who has been on medical leave since January.
Cook has been filling in as the company's leader and is widely believed to be an effective manager, but Steve Jobs has been the visionary force behind the company's successful products.