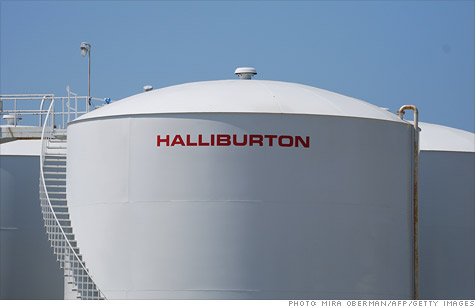 This year, Halliburton is planning to create as many as 11,000 jobs in the U.S. But you'll probably have to move to North Dakota if you want to snatch one up.
NEW YORK (CNNMoney) -- Halliburton is on a hiring spree this year, planning to create as many 15,000 jobs globally, including 11,000 in North America.
It's great news for the unemployed, especially those without a college degree, who -- says one company executive -- can often earn six figures a year after just two years of on-the-job training.
But here's the catch. You'll probably have to move to North Dakota if you want to snatch one of the positions.
Jim Brown, president of Halliburton's (HAL, Fortune 500) Western Hemisphere division, said the company has a need for everyone from MBAs to unskilled workers, as it builds its presence in the oil-rich Bakken shale region of North Dakota.
He broke the news in an interview with "Mad Money" TV show host Jim Cramer on CNBC Wednesday.
"If you have a willingness to work and an aptitude to learn with a high-school education, within a year and a half, two years, you can become a front-line supervisor. That job will pay $125,000, $130,000 a year," Brown said. "It's a tremendous opportunity. You got to come to North Dakota."
Out of all the 50 states, North Dakota had the fastest growing economy last year, because of oil exploration in its Bakken shale region.
Granted, the state's rural economy was starting from a small size to begin with, but in 2010 alone, it surged 7.1% -- much faster than the anemic 2.9% growth seen by the country as a whole. (See the 10 fastest growing states)
Jobs in the mining and logging industry -- which include oil drilling -- have grown 42.3% in the last 12 months, and the unemployment rate in the state is the lowest in the country -- at 3.3%.