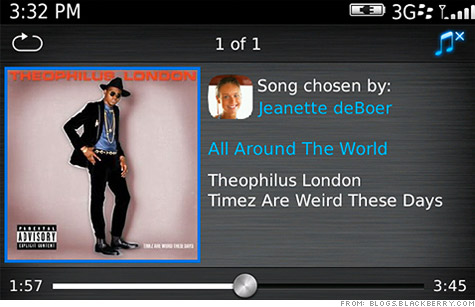 NEW YORK (CNNMoney) -- BlackBerry maker Research in Motion (RIMM) is jumping into the streaming-music market with BBM Music, an upcoming service it unveiled on Thursday.
BBM Music will be linked to RIM's BlackBerry Messenger, allowing users to connect and share music with their BBM contacts. But the $4.99 per month service is going to have a hard fight to gain any ground in the streaming-music market: BBM Music's users will be limited to a 50-song "profile" of tracks chosen from a catalog that RIM says will contain millions of songs.
Users will also be able to listen to songs from their BBM Music "friends" list. As RIM puts it: "More friends = more music."
Mobile music apps like Pandora and Spotify have gained a significant amount of traction for Apple's (AAPL, Fortune 500) iOS and Google's (GOOG, Fortune 500) Android, but Blackberry's platform remains untouched in the music realm.
Eliot Van Buskirk, editor of music-meets-tech blog Evolver.fm, thinks that empty playing field could help BBM Music overcome the hurdles and enjoy some modest success.
"It's very smart the way they've sort of built in the social game mechanics," he said. "People don't think of the BlackBerry as an entertainment platform, but I've heard from multiple music app developers that they love to develop for BlackBerry because there aren't many competitors."

But even on RIM's own BlackBerry blog, potential customers sound skeptical. The 50-song cap -- unless you expand your BBM Music friends list -- drew criticism.
"This just seems like a service intended to drive users to invite random people to BBM just so they can get more songs," one commenter wrote. "I would rather have the social aspect be optional."
BBM Music is expected to launch later this year.