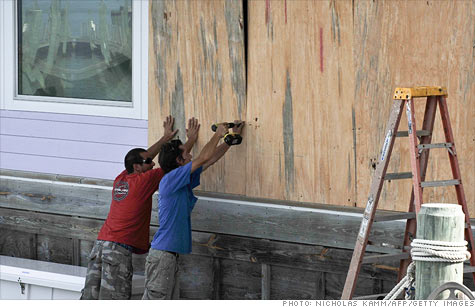 NEW YORK (CNNMoney) -- Now that Hurricane Irene has departed, many Americans are left to deal with the damage the storm left behind and whether or not their insurance company will help pick up the tab.
Between Wilmington N.C. and Boston, nearly 1.9 million residences and businesses were at risk of storm surge flooding, according to CoreLogic, the financial analytics company.
Hurricane Irene, however, dealt kindly with most of those at-risk homes. The real victims of the storm's ire turned out to be homes located near rivers and streams that overran their banks. Many of these properties were outside of designated flood zones and likely to lack flood insurance.
The bill from hurricane damage could total $7 billion, according to the Kinetic Analysis Corp., which estimates the impact of natural and man-made disasters on the economy. Less than half of that -- some $3 billion -- will be covered by insurance, the company said.
Mortgage lenders require homes that lie within designated flood zones to be covered by flood insurance. This low-cost coverage -- which runs as low as $129 a year -- is provided by the federal government and purchased through insurers like Allstate Insurance and Farmers Insurance Group.
But homes outside of flood zones often go uncovered, mainly because homeowners don't realize that their existing policies don't cover floods or because they don't feel their home are at risk.
"Many Americans underestimate the risk of flood damage [from a hurricane]," said Michael Barry, a spokesman for the Insurance Information Institute.
According to Barry, only 20% of all U.S. homes are covered by flood insurance.
Regular homeowner's insurance policies will pay for losses from wind, say if a roof blows off or a window comes crashing in, but they won't cover damage due to flooding, according to Barry.
To cover floods, homeowner's need to buy a separate flood insurance policy that covers damage specifically from flooding due to a storm surges, torrential rains or other acts of nature.
For those who don't have flood insurance, it usually takes 30 days for a policy to go into effect.
However, there are ways to help you expedite insurance claims should any wind or other property damage occur:
Preparing for a hurricane
Keep a record of your insurance policy numbers and the contact information for your insurance agent nearby.
Conduct an inventory of your valuables and other belongings. Walk through your home with a video recorder or camera and take pictures. It will prove helpful should you have to file a claim.
Place important documents, like bank account and insurance records, in a waterproof container, or better yet a safe.
Secure patio furniture and other loose objects. Garbage cans, umbrellas, toys, grills and other objects that can become missiles in high wind and damage siding, windows and doors.
Trim loose or dead branches from trees and shrubs. This is especially important if they're near power lines.
Protect windows. If you have storm shutters, close and secure them. Owners of homes in very vulnerable areas may want to cover windows with plywood or boards. Taping the windows won't save them, but may make clean-up easier if they do break.