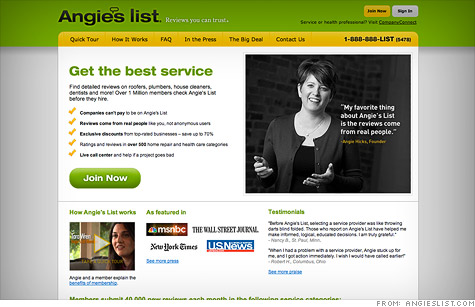 Angie's List is the latest in a string of unprofitable Internet companies preparing to go public.
NEW YORK (CNNMoney) -- Angie's List, a site where members can hire and review local contractors for auto or home services, filed Thursday to raise up to $75 million in an initial public offering.
Angie's List was founded in 1995, and at the ripe age of 16 the company is much older than its fellow Internet companies who have recently filed for IPOs -- including Groupon, LinkedIn and Pandora. It has amassed around 2.2 million reviews on its website.
But like most of its younger IPO-ing counterparts, Angie's List is not profitable. In 2010, the company reported a $27.2 million net loss on sales of $59 million.
For the first six months of 2011, Angie's List lost $25.8 million on revenue of $38.6 million.
Angie's List has two revenue streams. When the site launches in a new area, it offers free memberships to attract new users and reviews. After about two years, the new market is converted to paid memberships, where readers have to pay to access reviews. An Angie's List representative said rates vary by market, but subscriptions cost an average of $6 per month.
The site is now in 170 paid membership markets in the U.S., and as of June 30 it had more than 820,000 paying members.
Angie's List also lets service providers who are highly rated by its members advertise discounts and other promotions on the site. As of June 30, more than 192,000 of the 761,000 service providers reviewed on Angie's List were eligible to advertise.
Only 10% of the eligible service providers were advertising as of June 30, but that business makes up most of Angie's List's revenue. In 2010, service providers paid $33.9 million and members paid $25.1 million in fees.
Busy 2011 for tech IPOs: This year has been chock-full of Internet IPOs -- many from companies that have yet to turn a profit.
This month daily-deals site Groupon updated its IPO filing to change an accounting metric, which drew closer attention to its history of steep losses.
Professional networking site LinkedIn's (LNKD) shares more than doubled in its May IPO, even though the company turned only slight profits in 2010 and 2006, and has otherwise has been in the red every year since its 2003 inception. The stock is still trading well above its IPO price.
Pandora (P) shares also fared well, even though the unprofitable company had warned investors that it expected to continue losing money "through at least fiscal 2012."
But on Thursday, Pandora reported that it earned 2 cents per share last quarter on a non-GAAP basis, excluding stock-based compensation expenses. Using traditional accounting, Pandora lost $1.8 million for the quarter on sales of $67 million.
Pandora's shares were up more than 8% midday Friday.