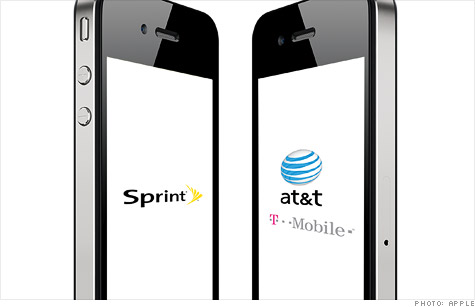 NEW YORK (CNNMoney) -- If Sprint gets the iPhone, it may be surprisingly good news for AT&T.
Two of Sprint's (S, Fortune 500) prime arguments against AT&T's proposed merger with T-Mobile are that competition in the wireless market remains limited to the Big Two -- Verizon Wireless and AT&T -- and that Sprint is effectively locked out of getting the best handsets.
But if the iPhone lands in Sprint's stores, Apple's (AAPL, Fortune 500) smartphone could undermine the No. 3 wireless company's anti-merger arguments.
"I think Sprint getting the iPhone inhibits its case," said Keith Hylton, professor at Boston University's School of Law. "The iPhone is the gold standard in handsets now. If you have the iPhone, it becomes hard to argue that you're locked out of the best handsets."
Several mobile experts agreed that the biggest beneficiary of Sprint getting the iPhone could ultimately be AT&T (T, Fortune 500).
"This weakens Sprint's core argument that a duopolistic wireless market would limit consumer choice," said Brent Iadarola, global director of research at Frost & Sullivan. "This does represent an odd kind of win for AT&T."
Sprint already offers more Google (GOOG, Fortune 500) Android smartphones (14 models) than either AT&T (8) or Verizon (12). "So this argument is further weakened if Sprint introduces the iPhone," Iadarola said.
AT&T had been the exclusive U.S. carrier of the iPhone from 2007 through February 2011, when Verizon (VZ, Fortune 500) began selling the iPhone 4. When Verizon got the iPhone, it started the rumor mill that Sprint would soon start selling the iPhone as well, since Verizon and Sprint's networks operate on a compatible wireless standard.
Those rumors were apparently confirmed by the Wall Street Journal late Tuesday afternoon, in a report citing sources "familiar with the matter."
Both Sprint and AT&T declined to comment.
Even though the news may be good for AT&T's merger with T-Mobile, analysts are mixed about whether selling the iPhone even makes sense for Sprint.
"Getting the iPhone is potentially is a double-edged sword for Sprint," said Mike McCormack, senior telecommunications analyst at Nomura Americas.
McCormack and other analysts said that the iPhone cramps margins, since the phone costs more to subsidize than the average smartphone. Plus, iPhone customers tend to use more data than customers that use other devices. That's particularly worrisome for Sprint, which is the lone provider with an unlimited data service option.
Several analysts also said that since Verizon and AT&T already offer the iPhone, Sprint's iPhone will mostly help with keeping the customers it already has, rather than bringing in new customers from rival networks.
"It makes you wonder why they want the iPhone in the first place," McCormack said.
Shares of Sprint, which rose 10% in a late surge Tuesday, fell 3% Wednesday.
Still, others like Iadarola think that Sprint's unlimited data option could help steal customers away from Verizon, which forces customers to pay in tiers for the amount of data they use.