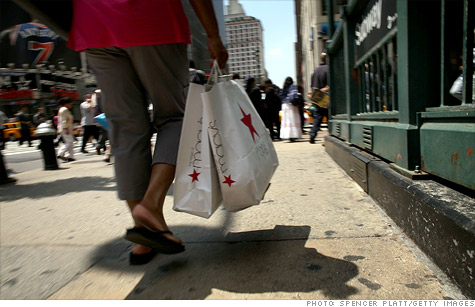 Consumers picked up their spending 0.8% in July, a slightly encouraging sign for the economy after they cut back just a month before.
NEW YORK (CNNMoney) -- After holding back the month before, American consumers spent their hard-earned money a bit more freely in July.
Personal spending rose $88.4 billion, or 0.8% in July, after falling 0.1% in June, the Commerce Department reported Monday.
The data was seen as slightly encouraging news after other recent reports have shown weakness in the U.S. economy. Consumer spending accounts for roughly 70% of U.S. economic activity, but so far, it has recovered sluggishly from the financial crisis.
Against that backdrop, economists immediately called Monday's data "encouraging," "decent" and "solid," and said it makes the odds of a double-dip recession less likely.
Paul Dales, senior economist with Capital Economics, raised his outlook for third-quarter economic growth to 2.5% after the report was released, up from his previous forecast of 1.5% growth.
But he was also quick to caution that July spending still just one month of data, and does not yet include the impact of August's stock-market plunge, dismal economic headlines and Hurricane Irene.
"It is possible, and probably likely, that the August data will be weaker," he said.
Where the money went: Spending increased most notably on durable goods, a category that includes long-lasting products like cars and appliances. Consumers had previously cut back their spending on durables for four straight months, so a blip up was considered a welcome rebound.
Economists say much of that rebound was probably due an increase in car sales, which had been subdue following supply disruptions from the Japanese earthquake in March.
Spending on services and non-durable goods also rose modestly in July.
Where the money came from: The increase in spending was funded partially by rising incomes, which include not just wages and salaries, but also government-provided benefits like Social Security, Medicare or unemployment insurance, rental income and earnings from investments.
Overall, personal income rose 0.3% in July, after increasing 0.2% the month before.
But spending was also fueled by consumers stashing less of their cash in savings. Savings as a percentage of income fell to 5% in July, down from 5.5% the month before.
"That's not a long-term sustained way of funding your spending," Dales said.
Inflation: The prices consumers paid on goods and services rose 0.4% in July, the government report said, marking a turnaround from June, when prices fell 0.1%.
Core PCE, which excludes volatile energy and food prices, rose 0.2%.
The Federal Reserve closely monitors this inflation reading to guide its policy decisionmaking. Over the last 12 months, core PCE has risen 1.6%, staying within the Fed's comfort zone of 1% to 2% inflation.