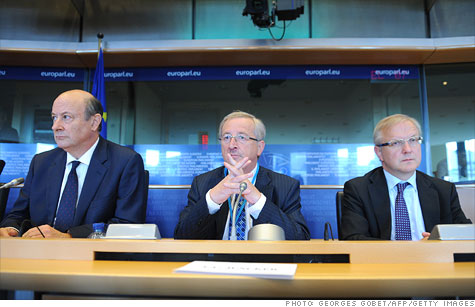 Polish Finance Minister Jacek Vincent Rostowski, Luxembourg Prime Minister and Eurogroup president Jean-Claude Juncker and EU Commissioner for Economic and Monetary Affairs Olli Rehn.
NEW YORK (CNNMoney) -- Amid worries that the latest bailout for Greece could unravel, Eurogroup President Jean-Claude Juncker said Monday that Finland's objections will not derail the rescue effort.
In remarks to the European Parliament, Juncker addressed a collateral agreement announced earlier this month between Finland and Greece, which was widely criticized by other members of the 17-nation currency bloc.
"I'm not happy with it," he said, speaking through a translator. "I don't like bilateral agreements between various member states." The Juncker-led Eurogroup comprises the finance ministers from the nations that use the euro as their currency.
Greece agreed to put millions of euros into an account controlled by Finland after Helsinki requested collateral to protect its contribution to the 109 billion euro bailout announced July 21.
The move rankled other eurozone nations and called the rescue plan into question. But Juncker said the deal between Greece and Finland was "vague" and "clearly not working."
Juncker added that the Eurogroup is working on an alternative proposal to the collateral impasse.
"People shouldn't think that the collateral guarantee difficulties will stop us from implementing the July 21 decisions," he said.
Meanwhile, Jean-Claude Trichet, president of the European Central Bank, called on all eurozone nations to follow through on pledges of fiscal discipline and greater cooperation on balanced budgets.
"It is of utmost importance that these commitments are now implemented strictly and timely," he said. "They need to be backed by concrete measures."
In his remarks to Parliament, Trichet said the recent slowdown in economic activity across the eurozone has been hindered by "recently re-emerged tensions in financial markets."
He said the market turmoil mainly reflects "ongoing fiscal and economic adjustments" by governments in Europe and around the world.
"In particular, the United States has been facing both fiscal and structural headwinds amidst weakened economic prospects," said Trichet.
Trichet also defended the ECB's recent purchases of sovereign debt, including bonds issued by Spain and Italy, in the secondary market. Echoing comments made last year, he said the bond-buying program "aims at correcting malfunctioning markets."
In response to concerns about a potential credit crunch in Europe, Trichet said the ECB decided in early August to conduct one six-month refinancing operation "to help banks in their liquidity planning, and enhance support for their lending to households and corporations."
But he stressed that the ECB and eurozone central banks are sitting on some 1.4 trillion euros worth of securities that can be used to back credit operations. "Therefore, there is no liquidity or collateral shortage for the European banking system," said Trichet.
Olli Rehn, the European commissioner for economic and financial affairs, said he is "seriously concerned" that the turmoil in financial markets could derail the economic recovery in Europe.
But he acknowledged that policymakers have few options to stimulate growth. As a result, he said, the need for "structural reforms have become even more central."
Despite ongoing concerns about European banks, Rehn said recent stress tests confirmed that the region's banks have sufficient capital.
He said banks have increased capital by some 50 billion euros since the financial crisis, suggesting that additional government support for the sector is unlikely.
Rehn was also cool to the idea of a so-called eurobond, which would be backed by all eurozone members.
While many investors say the eurobond could solve the region's long-term debt problems, Rehn said it "raises important questions for fiscal sovereignty and calls for more debate."