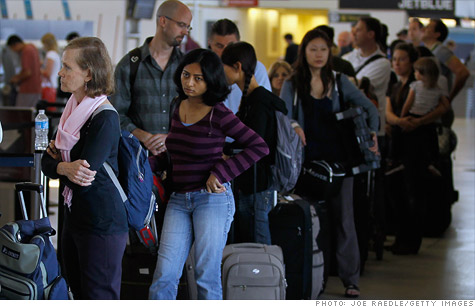 NEW YORK (CNNMoney) -- While Hurricane Irene's impact wasn't nearly as bad as expected, the severe weather still managed to cripple travel all along the East Coast at a time when many families were planning one last getaway before the summer's end.
Over the weekend, more than 10,000 flights were cancelled, Amtrak suspended much of its service between Washington D.C. and Boston and highways all along the Eastern seaboard were closed.
As of Monday, major airports including Dulles, Newark International, JFK, LaGuardia and Logan were all reopened and most previously-stranded travelers were being accommodated on future flights.
Overall, Thomas Hendricks, senior vice president of safety, security and operations at the Air Transport Association said the airlines and airports' management of the hurricane's disruption went "flawlessly" and the impact to travelers was minimized by the Federal Aviation Administration and Transportation Security Administration's preparations.
"It's gone very well," said Hendricks. Although, he said, it will still take several days to get back on track.
But for those who missed a much-anticipated vacation, it may not seem as if things went as smoothly.
While Amtrak offered refunds or rebookings without penalties and many of the nation's largest airlines, including Delta, U.S. Airways, United, American and JetBlue, waived fees for flight changes and even offered refunds to passengers whose travel plans were thwarted, it still meant hours of frustration for travelers.
The average wait time for those calling American Airlines' customer service line about travel this past weekend was over an hour and a half -- by far the worst out of all the airlines, according to a study by StellarService, a firm that employs a team of mystery shoppers and ranks customer service quality. U.S. Airways was the best, with an average wait time of only a little more than two and a half minutes.
Many hotels also waived their usual cancellation policies and refunded deposits to accommodate travelers.
"Typically, our policy is they need to give 14 days notice, but we would never take a chance with people's safety," said Jeanne Dooley whose parents own the waterfront Beaver Dam Creek House Bed & Breakfast in West Hampton, N.Y. As a result, the B&B refunded the $250 deposit for all of their guests and urged them to stay home.
Those who booked through travel sites like Expedia or Orbitz, which typically don't offer refunds for last-minute cancellations unless the traveler purchased travel insurance, were also given some leeway during this latest storm.
"It's not as bad as we originally thought," added Anne Banas, executive editor at Smartertravel.com.
Gina Samarotto was not out of pocket for the price of airline tickets or even a hotel room, as she was planning a low-key camping trip with her boys before the summer ended. But she feels particularly cheated.
"The greatest loss for me was losing the time with my kids doing something special," the single mom explained.
"My older son starts college tomorrow and my younger one starts high school -- big firsts for them. Irene took away my long awaited weekend with my boys before they start the next chapter of their lives."