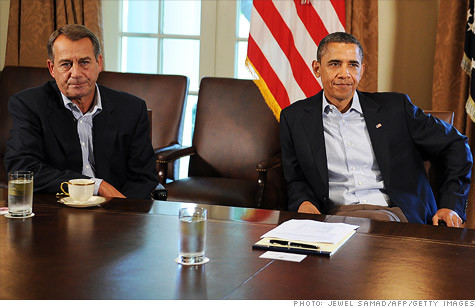 WASHINGTON (CNN) -- Fine. Thursday it is.
The latest skirmish in the Washington budget wars was resolved late Wednesday night when President Obama said he will deliver an economic address to a joint session of Congress on Sept. 8.
Earlier on Wednesday, Obama had notified Congress that he wanted to unveil his long-awaited jobs proposal in prime time on Sept. 7.
But the date was thrown into question when House Speaker John Boehner, citing security concerns, requested that the speech instead be given 24 hours later than Obama wanted.
Both days next week are blockbuster evenings for television networks.
Republican presidential candidates are scheduled to debate on Sept. 7, while the National Football League's opening night is Sept. 8.
"Both Houses will be back in session after their August recess on Wednesday, September 7th, so that was the date that was requested," the White House said in a statement. "We consulted with the speaker about that date before the letter was released, but he determined Thursday would work better."
Obama "welcomes the opportunity" to address Congress on Sept. 8 and "challenge our nation's leaders to start focusing 100% of their attention on doing whatever they can to help the American people," according to the statement.
The speech comes at a critical time for Obama and lawmakers.
After years of modest growth, the economy is hovering just above stall speed, and the risk of the country falling into recession is on the rise. The unemployment rate remain sky-high, and systemic problems continue to hamstring the housing market.
The jobs crisis all but ensures that the state of the fragile economy will remain the dominant issue of the 2012 presidential campaign.
In the speech, Obama is expected to unveil a stimulus package designed to boost job creation that might include new infrastructure programs or an extension of unemployment benefits.
The push to take action to help the economy comes as Congress begins a months-long effort to cut deficits.
A new congressional "super committee" has until on Nov. 23 to propose ways to cut at least $1.2 trillion in debt over 10 years. Congress must take an up-or-down vote on the committee's plan by Dec. 23.
--A CNN Wire report was used in compiling this article.