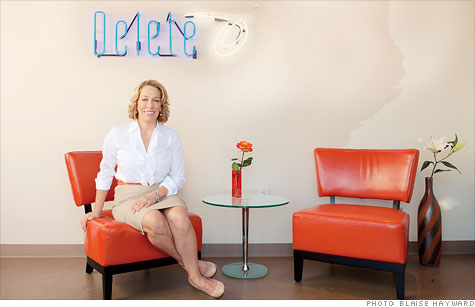 Marci Zimmerman, 48, Phoenix. THEN: Executive at a nonprofit. NOW: Owner of a tattoo-removal salon.
(MONEY Magazine) -- Marci Zimmerman was sitting in the stands at a baseball game one blazing hot afternoon in 2003 when she saw something that made an indelible impression on her.
Surrounded by sweaty fans shedding their shirts, and "looking around at all the bad tattoos, I thought, 'Someday, tattoo removal is going to be a huge business,' " she says.
Over the next few years, Zimmerman, an executive at the nonprofit Juvenile Diabetes Research Foundation, tested her hypothesis.
She scoured research reports (including one showing that about 20% of tattoo bearers regret their markings); studied removal methods; and interviewed plastic surgeons, dermatologists, and tattoo artists to find out where they sent folks who wanted their tats taken off.
"I followed the trail," she says, "and didn't see any business like what I wanted to do." Zimmerman had previously led marketing efforts at the Marriott hotel chain, and her experience in hospitality gave her the idea for a clinic that looked like a spa.
"I wanted to create a space that was warm and inviting, and didn't look like just another medical office."
Send The Help Desk your career questions.
In 2009, she quit her job and plunked down $9,000 for a two-week class about laser technology.
Soon after, she signed a lease on a $1,500-a-month, 1,200-square-foot space in central Phoenix; put down 20% on a $100,000 laser; and contracted a doctor to operate it.
Delete -- Tattoo Removal & Laser Salon opened in November 2010. Charging $100 per four square inches of work, the salon took in $16,000 its first month; this June, sales hit $70,000, thanks to Zimmerman's marketing efforts.
This year, she expects revenue of $400,000. Next year, with plans to open two more outlets, she projects taking a salary of $100,000, two-thirds of what she used to earn. Her ambitious goal: to build a business worth $15 million in five years by opening around 50 stores.
While working toward that plan, Zimmerman is having an adventure getting to know her customers. (One of her most memorable clients: the guy who came in to have the word "slumlord" removed from his knuckles.) As she says, "Every tattoo has a story behind it."