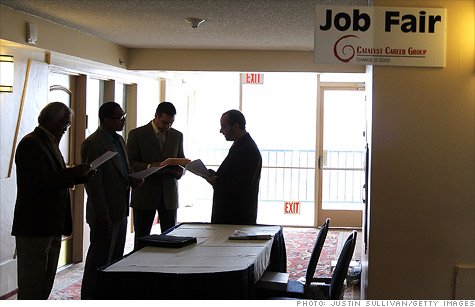 Initial claims for unemployment benefits fell to 409,000 in the week ending Aug. 27, the Labor Department said Thursday.
NEW YORK (CNNMoney) -- Filings for unemployment claims dipped last week, after striking Verizon employees went back to work.
The number of first-time filers for unemployment benefits fell to 409,000 in the week ending Aug. 27, the Labor Department said Thursday. That's down 12,000 from a revised 421,000 the prior week.
Economists were predicting initial claims would fall to 407,000 during the week, according to Briefing.com.
Unemployment claims from striking Verizon workers had pushed the figure up substantially for two weeks in a row. In most states, striking workers aren't eligible for unemployment benefits, but that doesn't necessarily stop them from applying anyway.
About 45,000 Verizon (VZ, Fortune 500) workers went on strike Aug. 7, after the telecommunications giant pushed for cuts in health benefits and pensions when its contracts with two major unions expired. The strikes ended two weeks later, without the unions reaching an agreement with the company.
As a result, at least 12,500 workers filed for initial unemployment claims from the government in the week ending Aug. 13 and another 8,500 workers filed for those benefits in the second week of the strike, the Labor Department originally reported.
Stripping out the effects of the Verizon strike, initial claims have barely changed over the last few weeks, and economists are predicting they'll soon be clouded by the effect of Hurricane Irene.
"Next week, the fact that 1.7 million homes and businesses are still out of power along the U.S. Eastern seaboard as of yesterday afternoon might have an impact on the claims data," said Jennifer Lee, senior economist with BMO Capital Markets in a research note.
Overall, continuing claims -- which include people filing for the second week of benefits or more -- fell by 18,000 to 3.7 million in the week ended Aug. 20, the most recent data available.
The government's weekly unemployment claims report comes a day ahead of an even more anticipated monthly jobs report due Friday.
A CNNMoney survey of 19 economists forecasts the U.S. economy added 80,000 jobs, and the unemployment rate remained at 9.1% in August.
The report is also likely to set the tone for President Obama's speech on job creation next Thursday.