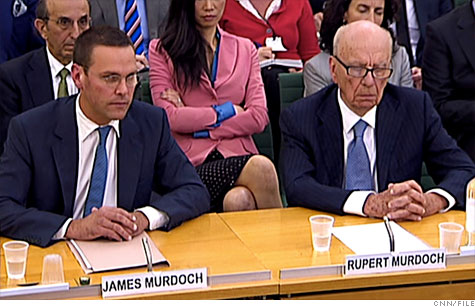 Rupert Murdoch and his son James Murdoch of News Corp. testify before the British Parliment in July. Both got big pay raises from the company, although James Murdoch returned his $6 million bonus.
NEW YORK (CNNMoney) -- Media baron Rupert Murdoch and his son James Murdoch were both given substantial raises from News Corp. in its recently completed fiscal year -- although James Murdoch declined much of his raise, citing the recent scandals that buffeted the company.
Rupert Murdoch, the chairman and CEO of the global media conglomerate, had his total compensation jump 47% to $33.3 million, according to regulatory report News Corp. released Friday.
His son, the deputy chief operating officer and CEO of the company's international unit, would have received $17.9 million, giving him a 74% raise. But James Murdoch declined a $6 million bonus, which left his final pay package for the year at $11.9 million.
"While the financial and operating performance metrics on which the bonus decision was based are not associated with this matter, I feel that declining the bonus is the right thing to do," he said in a written statement released by News Corp. "I will consult with the Compensation Committee in the future about whether any bonus may be appropriate at a later date."
Rupert Murdoch's base pay remained at $8.1 million, while his son's base pay actually declined slightly, from $3.2 million to $3 million. But after two years without a bonus, Rupert Murdoch received a cash bonus of $12.5 million.
Each Murdoch also received stock valued at more than $8 million -- far above the $4.1 million Rupert Murdoch received in stock the previous year, or the $1.7 million stock award his son took home a year earlier.
The value of News Corp. (NWSA, Fortune 500) shares tumbled by one-third between July 5, when the phone-hacking scandal broke, and Aug. 8, just before the company reported fourth quarter earnings that beat forecasts.
But since the low on Aug. 8, shares have rebounded to recapture around half of the value they lost.
A spokesman for News Corp. did not return a call seeking comment on the pay packages Friday afternoon.
Both Murdochs were called to testify before the British Parliament in July about the scandal involving reporters breaking into the voice mails of British politicians, members of the British royal family, British soldiers who were killed in action, and even a teenage murder victim. Rupert Murdoch apologized for the hacking.
The company closed the London paper most directly linked to the scandal, The News of the World, and various top executives have resigned from the unit responsible for overseeing the papers. But neither Murdoch nor his son have relinquished their positions, despite some calls for them to do so.