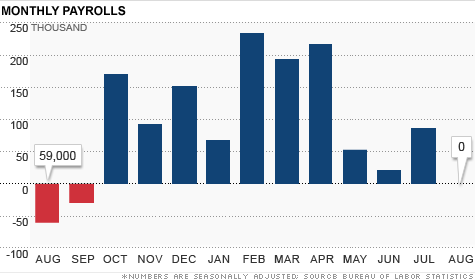 NEW YORK (CNNMoney) -- As if Friday's report that showed job creation at a dead stall wasn't bad enough, economists say the worst could be yet to come.
That's because high unemployment could be a warning sign -- and the cause -- of the country falling into a double dip recession.
Most economists weren't ready to call a new recession yet. But many were raising the odds of one.
They're worried because weakness in the labor market can lead businesses and households to pullback on spending. And that is the worst thing possible for an economy where overall growth has slowed to nearly zero.
"When employment drops, incomes fall. When income falls, sales fall. When sales fall, production falls. When production falls, employment falls," said Lakshman Achuthan, managing director of Economic Cycle Research Institute.
It's a tough cycle to break.
"You can scream and shout, you can be the President, you can be the Congress, you can be the central bank, you're not going to stop that once it gets going," said Achuthan.
Even so, the economy is still technically creating jobs -- albeit very slowly -- and Achuthan thinks the economy would need to actually lose jobs before tipping back into recession.
One of the biggest worries from economists is there doesn't seem to be much that will be done to address the weakness.
The Federal Reserve is considering additional support, but even Fed Chairman Ben Bernanke has warned there are limits to what the central bank can do.
Bernanke said in a speech last week that Congress needs to step in. Such fiscal stimulus would include either more government spending or more tax cuts.
But Republicans and Democrats are having trouble even reaching agreement about what night President Obama can lay out a new jobs plan, let alone agree upon what action should be taken.
"There is no political will in Washington...to stimulate the economy," said Carl Riccadonna, senior U.S. economist for Deutsche Bank. "The patient is extremely sick and needs some medicine, but by and large the economy is on its own to work this out."
Of course economists aren't the only ones growing more worried. Consumer confidence experienced the sharpest decline in August since the height of the financial crisis.
John Silvia, chief economist for Wells Fargo Securities, said the economy remains at risk as long as most households are struggling with weak wages, rising prices and the loss of household wealth.
Silvia puts the chance of a new recession at 30% to 40%, up from 20% to 30% before Friday's jobs report.
"A significant number of Americans have never seen a recovery," Silvia said. "We're just skating on really thin ice. We can't take another shot."
Technically, the recession ended in June 2009, according to the official definition from the National Bureau of Economic Research. But that group takes into account a wide range of economic indicators.
For the average household, the Great Recession never ended. In fact, eight in 10 Americans think we're still on one, according to a new CNN/ORC poll.
Harvard University Professor Ken Rogoff said that view is justified.
"We have never left the recession by any reasonable measure," Rogoff said. "If you're 10 feet below water, and you come up a foot, you're still drowning. The question of whether we are growing at 1% or falling at 1% is not the big issue. We're in a different animal."
Have you run out of unemployment benefits? How are you surviving? Send an email to realstories@cnnmoney.com and you could be profiled in an upcoming piece on CNNMoney. Please include your phone number. For the CNNMoney Comment Policy, click here.