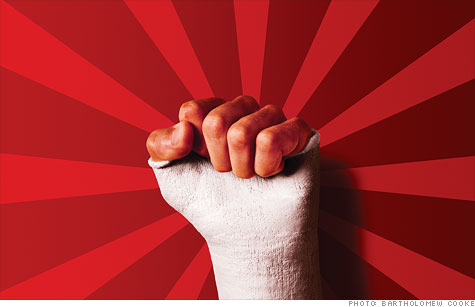 (MONEY Magazine) -- When a health insurance claim denial lands in the mailbox, do you figure the hassle of going to battle isn't worth it? Think again.
Patients who appeal denials directly to the insurer win 39% to 59% of the time, depending on the state (only four states collect relevant data), according to a recent report from the Government Accountability Office.
What's more, last year's health reform law requires most insurance plans to let you make an external appeal, in which a third party rules on the case if a direct appeal fails. (Many insured people previously had no such recourse.)
That's great news for patients, says Victoria Veltri, the state of Connecticut's health care advocate, a government official charged with looking out for the public. According to the GAO report, 23% to 54% of people who file such appeals win a reversal or revision.
To increase your chances of prevailing, follow these steps.
1. Check for errors
According to the American Medical Association, 19% of claims payments contain errors. Lots of doctor bills do, too. One big trouble spot is the diagnosis or procedure code that appears on every bill. For example, "there is a code for a checkup for a 1- to 4-year-old, but if your child is 6, the claim will be denied," says Pat Palmer, founder of Medical Billing Advocates of America.
If the insurer's letter doesn't clearly explain the reason for the refusal, call its customer service line and ask for more information, including the codes. Check them with your doctor's office to make sure they're accurate. If not, ask the office to correct the claim and resubmit it. That should solve the problem.
2. Make the case in writing
Other common explanations for denials are that the care wasn't medically necessary or was experimental or investigational or that you didn't have pre-authorization. In such cases, you usually must file a formal appeal to the insurer within 180 days. Include:
-- A cover letter summarizing your argument and what's in your appeals packet (get details at advocacyforpatients.org).
-- A letter from your doctor explaining your diagnosis and symptoms, what other treatments you've tried, and what would have happened had you forgone treatment.
-- Copies of your medical records back to the date of your diagnosis.
In the case of experimental or investigational denials, also include studies published in medical journals that have found the treatment to be effective for patients in your situation (find them at pubmed.gov or by asking your doctor). Include evidence that the treatment is used by doctors -- even if overseas.
Mail the packet to your insurer with delivery confirmation.
3. Escalate the battle
Your insurer won't budge? Make an appeal to an independent review organization that has the power to overturn your insurer's decision, says Jennifer Jaff, executive director of the nonprofit Advocacy for Patients With Chronic Illness.
Your legal rights and the procedures to follow vary by state and by health plan. Consult your state's Consumer Assistance Program (find contact info at healthcare.gov), which will explain the process and give advice at no charge. If your state is one of the 17 that lacks such a program, ask your state's department of insurance for guidance.
When insurers deny an appeal, they sometimes rely on what's called a clinical peer review. Ask for a copy and check the qualifications of the person who performed it.
Does the case involve your child, but a geriatrician did the review? "In many cases you can bring the insurer's findings into doubt by challenging the credibility or qualifications of the reviewer," says Veltri.
Update your information packet to counter your insurer's argument, then file it (typical fee: $25). If your case is deemed urgent, you'll get a ruling within 72 hours; if not, 45 days.
4. Bring in a pro
When the stakes are high -- say, the unpaid bill runs into the thousands and you're in a time crunch -- enlist the help of a patient advocate, says Jaff. This pro will craft a compelling argument and handle all paperwork. (Find one by asking your doctor or your state's consumer assistance program, or at billadvocates.com.)
Help doesn't come cheap -- charges are typically $65 to $200 an hour or 35% of the amount saved -- but that's a heck of a lot better than forking over for an unfair charge.