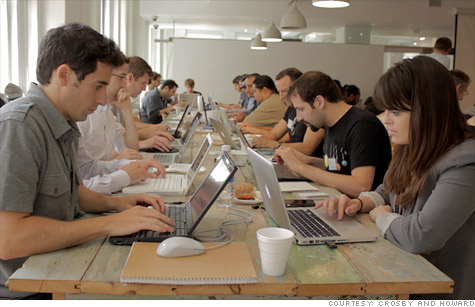 At Photo Hack Day, developers threw together new apps mashing up images and data streams.
NEW YORK (CNNMoney) -- On a recent summer Saturday, more than 200 developers gathered to spend 24 straight hours diving into the startup world's buzziest arena: photo hacking.
Their task: Use APIs -- programming building blocks that let developers mash together different services -- to create a new app mixing photography with other data streams. The winner would receive a $5,000 cash price, and the event's sponsor, Nasdaq (NDAQ), planned to give the top hack a glitzy showcase by featuring it on Nasdaq's Times Square billboard.
I was one of five judges reviewing the hacks. Two dozen companies turned up to compete, illustrating a trend I've seen developing this year: Photo hacking and sharing is the white-hot field of the moment.
Exhibit A is Color, the wildly hyped and notorious photo-sharing app that scored a $41 million investment round before it even launched. But a better grassroots indicator is Instagram's massive growth. The Instagram crew gave us an app with some basic photo filters and the ability to share easily, and within months people from all around the world were uploading photo creations. The thinly staffed startup now has more 7 million users.
After a brief love affair with Instagram, I've recently geeked out over Eyeem, a Berlin based photosharing startup that uses "live" filters -- you can see what your photo would look like with a "vintage" filter before you actually take it. The app, which just launched, has a slick design and aims to make photosharing smarter by locating users and guessing their activities.
So why are developers flocking to photo hacking? The creators I spoke with kept coming back to one key reason: Your phone is now your camera. Everyone can be a photographer, and everything around you can be documented.
That opens up a whole new field for innovation -- but it's also a minefield.
More than a third of the developers at Photo Hack Day (organized by Aviary, a company that makes online photo and audio editing tools) chose to build atop an API from Face.com, an Israeli startup that builds facial recognition software. (Facebook uses Face.com's technology to power its photo-tagging feature.) The capabilities it offers are as cool as they are creepy.
One group hacked together "Facialytics," a service that uses facial recognition to track a crowd's emotions over time. That information could be valuable: Want to know how the audience at a movie test screening feels throughout the film? Use a camera and scan their sentiments.
A crowd favorite at the hackathon was security service HoneyBadger. The app uses facial recognition to identify if someone is using your laptop -- and if it's not the laptop's registered owner, it'll send out a text-message alert. It'll also hit Facebook to try to identify the scofflaw.
HoneyBadger only searches your Facebook friends for photo matches -- but there's no technical reason it couldn't go further for its "match name to face" IDs. That walks right up to the blurry line facing developers: How far can they go without freaking people out?
Remember Google's facial-recognition brouhaha: The company has experimented with software that would link photos to personal profiles of the people in them. "We built that technology and we withheld it," Google (GOOG, Fortune 500) Chairman Eric Schmidt said in June at a technology conference. "As far as I know, it's the only technology Google has built and, after looking at it, we decided to stop."
Startup developers are exploring the murky zone.
"When there's this new technology, people want to use it -- especially developers who like to try the latest things," Raj Moorjani , the marketing manager for photo-sharing app Tracks, said at Photo Hack Day. "People are trying to experiment with it and see how people react."
For now, New York-based Tracks is steering clear of using facial recognition tools, but they're not ruling it out. "We would definitely consider it if we can implement it in a way that helps protect users," Moojani said.
The folks at Eyeem are in the same boat, Meissner said. The app, which aims to guess what people in photos are doing and where they are, could be bolstered with facial recognition tools.
"It's definitely interesting to us," Meissner said. He says the company won't go there until it figures out its privacy options, including a very clear opt-in mechanism.
But there are always gray areas. If one of my friends on Facebook "opts in" and allows Face.com to recognize his or her friends, Face.com now has some of my information in its system -- even though I didn't opt in.
I found myself caught in the same bind as developers. From a judging standpoint, the most compelling hacks came from those built using Face.com's facial recognition data.
"Face.com was giving all this information, like the percentage of how happy someone is in a photo," Web designer Andy Mangold said of the data flood Face.com unlocked. One app, Emotional Breakdown, scanned news photos and charted out the emotions their subjects portrayed.
The gray zone is where creativity thrives. Let's just hope everyone treads carefully.