Yahoo has been a turnaround story for too long. With the stock continuing to languish, it's time for the company to start shopping itself to Microsoft and other potential buyers.
NEW YORK (CNNMoney) -- Here's some unsolicited advice for interim Yahoo CEO Tim Morse, and whoever is -- lucky? unlucky? -- enough to replace him permanently.
Now that Carol Bartz has been fired, there is only one viable solution to Yahoo's (YHOO, Fortune 500) numerous problems: Make it somebody else's problem.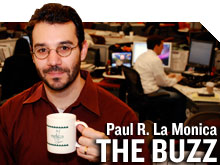 Morse, chairman Roy Bostock and chief Yahoo Jerry Yang (yup, that's actually his title) should not pass go or collect $200. They should head straight to Redmond, Wash., and beg Steve Ballmer to revisit his 2008 idea of Microsoft buying Yahoo. The revenge of Micro-hoo!
Of course, Yahoo isn't going to sell for anything remotely close to the $47 billion and change that wound up being Microsoft's (MSFT, Fortune 500) final offer three years ago. Yahoo's market value is currently $17 billion.
But if Google (GOOG, Fortune 500) was willing to pay a stunning 63% premium for Motorola Mobility (MMI), maybe the similarly cash-rich Microsoft could pony up $25 billion or so for Yahoo. That works out to about $20 a share.
Shares of Yahoo were up about 4% in mid-afternoon trading Wednesday to just under $13.50. Investors were probably breathing a sigh of relief that the bleeping Bartz era is finally and mercifully kaput.
"We think this is the right move, but sadly a year too late -- YHOO's business has already been damaged," Trip Chowdhry, an analyst with Global Equities Research, wrote in a note to clients Tuesday night.
But the stock's rise also is partly due to hopes that the end of Bartz may mean the end of Yahoo as an independent company.
"We believe that it is more likely that the board reaches an agreement to sell the company or parts of the company before a new CEO is found," wrote Youssef Squali, an analyst with Jefferies & Co., in a report Wednesday. He estimated that a fair value for Yahoo is between $18 and $20 a share.
Yahoo is no longer a tech innovator. It's given up on search and is already partnering with Microsoft's Bing -- which in theory should make a Microsoft-Yahoo mashup less difficult from an integration standpoint. It also may be more palatable to the regulators that would review any merger for antitrust concerns.
What Yahoo still does well though is bring people to its network of properties. It generates a ton of traffic for destinations like Yahoo Finance, fantasy sports sites (Go Brooklyn Brawlers, the football team of Mr. and Mrs. Buzz!) and photo sharing service Flickr.
But this isn't 1997 anymore. Nobody cares about "eyeballs" if you don't back that up with solid advertising revenue. That's what makes Microsoft such an intriguing buyer of Yahoo. Sales growth is not the problem for Microsoft.
Microsoft's online services division has posted a 14% year-over-year increase in revenue in the first nine months of this fiscal year. Online ad sales were up 17%. But the unit continues to bleed red ink, reporting an operating loss of $1.83 billion, compared to a $1.65 billion a year ago.
Yahoo, to Bartz' credit, has already done an admirable job of cutting costs to preserve profits. A combination of Microsoft and Yahoo would arguably lead to even more opportunities to lower expenses and finally turn Microsoft's online unit into something that generates real earnings.
But if Ballmer is no longer as interested as he was in 2008, Yahoo could shop itself to a private equity firm or two.
Heck, Yahoo could even entertain the notion of seeing if its disgruntled China partner Alibaba would want to buy it. You know what they say about keeping your friends close and your enemies closer. At the very least, Alibaba could buy the stake Yahoo holds in Alipay, Taobao and other Alibaba-controlled assets.
But one thing Yahoo should not do is consider buying the other dysfunctional Internet firm out there: a little one named AOL (AOL).
Although a purchase of AOL would not break the bank -- AOL's market value is now just a mere $1.7 billion -- it would not do anything to help Yahoo. That's because AOL is essentially a smaller version of Yahoo. It's another company that is more online media and less tech.
And while AOL finally reported ad sales growth in the second quarter (for the first time since 2008), ad revenue was only up a meager 5% from last year. Google and Facebook are both eating the collective lunches of Yahoo and AOL in search and display advertising.
Yahoo must find an entity that's willing to, for lack of a better term, bail it out. It's not in a position to inherit (and subsidize) yet another colossal mess.
The acquisitions of The Huffington Post and TechCrunch have done little to slow AOL's inexorable slump into obscurity. (Speaking of TechCrunch, I assume that the powers that be at CNN would not be happy if I proposed starting up a fund to invest in companies I write about? No? Just checking.)
Sure, Yahoo could get lucky and hire a CEO that can finally right the ship. Martin Pyykkonen, an analyst at Wedge Partners in Denver, mentioned a dream candidate in a note Wednesday morning: former News Corp. (NWSA, Fortune 500) COO Peter Chernin. He's a guy that many News Corp. investors wish had never left.
But could even Chernin fix Yahoo, a company that has been a "turnaround story" for a decade?
Since 2001, Tim Koogle, Terry Semel, Yang, Bartz and now Morse have occupied the CEO slot at Yahoo. Managers of the Yankees under George Steinbrenner in the 1970s and 1980s enjoyed more job security. (OK. That's a stretch.)
Is there really any reason to believe that the sixth time will be the charm at Yahoo?
Pyykkonen didn't think so.
"The challenges at the current YHOO are likely beyond any one person's ability to perform some magic and reinvigorate growth in the company," he wrote.
Yahoo -- and Yang in particular -- has stubbornly stuck to the notion that it can and should remain independent. The time has come to give up the ghost and try and find someone else to fix Yahoo's woes. Otherwise, as I wrote a few month's earlier, it's destined to become the Internet's purple dinosaur.
The opinions expressed in this commentary are solely those of Paul R. La Monica. Other than Time Warner, the parent of CNNMoney, and Abbott Laboratories, La Monica does not own positions in any individual stocks.