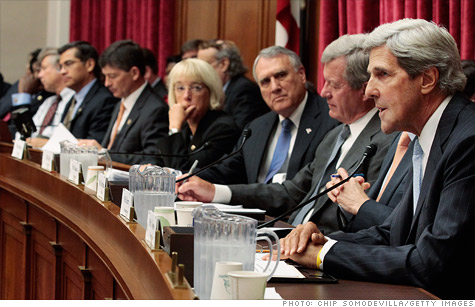 Sen. John Kerry, far right, said the super committee's work goes beyond just examining the federal budget numbers.
NEW YORK (CNNMoney) -- It was Opening Day on Thursday for Congress' bipartisan debt super committee.
Holding their first meeting hours before President Obama was set to unveil his American Jobs Act, lawmakers made clear that jobs and economic growth were a paramount concern in how they should approach their primary charge: to propose ways to reduce deficits by between $1.2 trillion and $1.5 trillion.
It was also clear that members of the Joint Select Deficit Reduction Committee see their mission as broader than just reining in the federal budget.
Some members suggested the 12-person group must also help restore Americans' faith in Congress -- which was seriously battered by the destructive debt ceiling debate this summer.
"Yes, we're here to examine the numbers. But, frankly, we're also here to look beyond narrow consideration of party or ideology to address the broader needs of our nation," said Democratic Sen. John Kerry. "The world is watching."
Kerry added that the group needed to restore confidence. "And we need to do it in a hurry."
Indeed, the committee will have to do everything in a hurry. It only has 11 weeks to produce real legislation that the House and Senate can vote on by Dec. 23.
Just how much the group can accomplish remains to be seen. Several members said they wanted the committee to exceed its $1.2 trillion to $1.5 trillion target and to attempt both entitlement and tax reform.
And a number of members said it's not as if the group has to reinvent the wheel because there are several plans that bipartisan groups have presented in the past year that can serve as a framework.
But one member, Republican Sen. Jon Kyl, indicated everyone eyes' might be bigger than their stomachs.
"I think a dose of realism is called for here. This is tedious, time-consuming work, and it's going to require going through a lot of budget numbers line by line," Kyl said. "We're only going to succeed if we can avoid partisanship and try to limit the demands on the committee."
Partisanship, of course, is what could put the brakes on any attempts at structurally reforming Medicare, Medicaid and Social Security, or overhauling the tax code. Indeed, four of the members of committee -- two Democrats and two Republicans -- also sat on Obama's fiscal commission and voted against that group's recommendations for predictably partisan reasons.
But that was before the debt ceiling debate and the country's subsequent credit rating downgrade. Maybe this time will be different.
Or not.
After Thursday's meeting, Kyl threatened to quit the committee if it considers any additional cuts in military spending beyond the $400 billion already agreed to this summer in the deal to raise the nation's borrowing limit.
"I'm off the committee if we're going to talk about further defense decreases," Kyl told a luncheon sponsored by two conservative groups. "Defense should not have any additional cuts."
Other super committee members haven't drawn such clear lines in the sand, not publicly anyway. And if the group is to succeed, such line-drawing will have to be kept to a minimum.
The committee's first public hearing will be held next Thursday. The sole witness will be Congressional Budget Office Director Doug Elmendorf, who will discuss the history and drivers of U.S. debt its threat.
- CNN's Tom Cohen and Larry Shaughnessy contributed to this report.