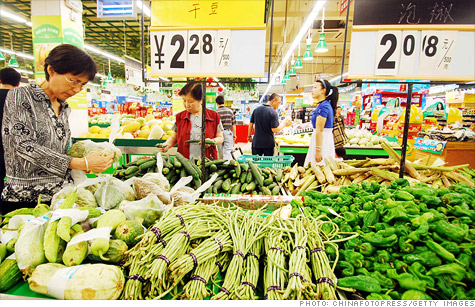 The prices Chinese consumers pay for goods and services rose 6.2% in August, according to a report out Friday.
NEW YORK (CNNMoney) -- Rapidly rising prices in China finally started to slow in August, giving some relief to consumers in the world's second largest economy.
China's Consumer Price Index -- a broad measure of prices for food, housing, clothing and other common items -- showed that prices rose 6.2% over the 12 months ending in August, China's National Bureau of Statistics reported Friday.
That marks a slight slowdown in China's rapidly growing inflation rate, after CPI grew 6.5% in July -- the fastest rate in three years.
Last month marked the first time Chinese inflation has slowed since December.
Still though, food prices -- the main driver behind China's inflation -- are substantially higher than they were a year ago. And in a country where food accounts for more than a third of the average person's expenses, rising prices can take a substantial chunk out of consumer spending.
"A rise in food prices relative to prices of all other goods hurts China's households ... severely," Carl Weinberg, chief economist with High Frequency Economics said in a research note earlier this week.
Chinese food prices in August were up 13.4% year-over-year, with meat and poultry prices the main driver -- up 29.3%.
Non-food inflation was up 3%, its highest level ever recorded, said Chi Sun, an economist with Nomura.
"We found basically every item in the basket of prices is increasing, so we think inflation is broad-based," she said.
Most economists think those prices will start to come down later this year.
"If the harvest turns out well, consumer prices will stop rising and may even fall by the end of this year," Weinberg said.