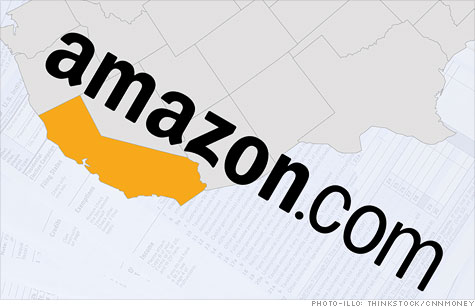 NEW YORK (CNNMoney) -- Amazon has struck a deal with lawmakers that will give the company one more year before it must start collecting sales tax on purchases made in California.
As part of the agreement, which was reached late Wednesday, Amazon has promised to back off fighting a new state law that would have compelled it to collect the tax.
Now Amazon has until July 31, 2012, to lobby Congress for a federal solution.
Right now, online retailers face a patchwork of local laws, requiring them to collect sales tax in some states but letting them skip it in others. Amazon has fought hard against local levies but says it would support a "simple, nationwide system of state and local sales tax collection."
California's sales tax kerfuffle started back in June, when California Governor Jerry Brown approved an $86 billion budget that imposed deep spending cuts. Under that law, Amazon and other out-of-state online retailers would be required to collect California sales taxes if they had affiliates, offices, workers or other ties to the state.
Amazon's affiliates program provides a commission to website or blog operators who refer shoppers to the retailer's site. Amazon, which has had associates in California for more than a decade, works with 10,000 affiliates there.
Brown's measure was expected to add $200 million to California coffers. But the same day the bill was signed into law, Amazon (AMZN, Fortune 500) announced it would terminate its relationship with its California associate. It called the legislation "unconstitutional and counterproductive."
Instead, Seattle-based Amazon wrote up a referendum challenging the law and spent boatloads of cash collecting signatures for it. Last week, the company sweetened the pot: It offered to build distribution centers in California and hire workers in the state.
"Amazon throws around a lot of money," said Assemblyman Charles Calderon, a Democrat, who helped broker the agreement. "It's not your typical corporate community. They floated their own proposal. They have an aggressive business plan, and they are wiling to take risks."
Calderon calls the 12-month push down the road a "grace period," and he said "a national solution" from Congress would make things simpler for everyone.
Amazon hasn't said whether or not it will reinstate its California affiliates. The company did not return a call seeking comment.
Meanwhile, other states have passed the so-called "Amazon tax" in recent years. Those include Connecticut, Illinois, New York, North Carolina, Arkansas and Rhode Island. Amazon dropped its associates program in all those states, except New York, where it has a brought a lawsuit against the state.