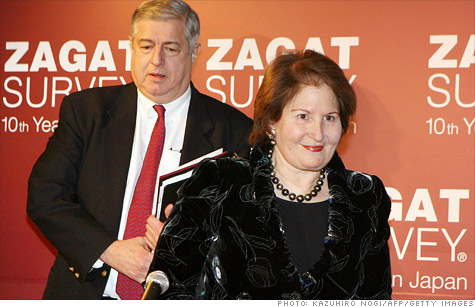 Nina and Tim Zagat began publishing their restaurant guide in 1979.
NEW YORK (CNNMoney) -- Google is throwing significant muscle into its new focus on local businesses: It has acquired reviews behemoth Zagat for an undisclosed sum, the company said Thursday.
"[Zagat's] iconic pocket-sized guides ... were 'mobile' before 'mobile' involved electronics," Marissa Mayer, Google's head of local and location services, wrote in a blog post announcing the deal.
Zagat, founded in 1979, rates restaurants on a 30-point scale based on consumer surveys and reviews. Its guides include short paragraphs culled from those reviews, and it operates in 13 categories and more than 100 cities.
"Zagat will be a cornerstone of our local offering," Mayer said, adding that Zagat content will enhance Google search and Google Maps.
Zagat, based in New York, put itself up for sale in 2008 but couldn't find a buyer. The company raised $31 million in venture capital in 2000.
In their own blog post, Zagat founders Nina and Tim Zagat called the purchase the "most exciting news in our 32 years in business." The pair said they will remain active in Zagat.
Google has made ramping up local initiatives a priority this year. After its failed bid to buy daily-deals wunderkind Groupon, Google (GOOG, Fortune 500) embarked on a slow but steady march into the local ads and content space, launching Google Offers in a few cities and introducing "Latitude" check-in deals.
Last month Google acquired The Dealmap, which aggregates local deals and displays them on a map.
One analyst says the Zagat buy is a jump above the rest: He thinks the guide's sterling brand reputation could give Google the boost it needs.
"Google's really kind of struggled with the people-oriented services," says Rob Enderle, principal analyst at tech research firm The Enderle Group. "Lately they're known for canceling more products than bringing them to market."
Zagat, on the other hand "brings a certain credibility" in rating local spots, Enderle says. And the content can be easily tied to existing Google services like maps and local offers.
"The [Zagat] brand carries so much equity that Google could completely screw up the merger and still come out well," Enderle says. "Mergers are often tough to pull off, but this one's about as easy as it gets."