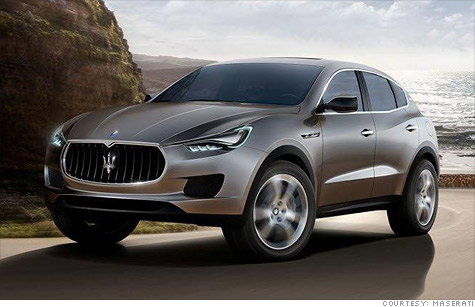 The new Maserati Kubang SUV is expected to be built in Detroit alongside the Jeep Grand Cherokee and Dodge Durango.
NEW YORK (CNNMoney) -- The same Detroit factory workers who today are building Jeep Grand Cherokees and Dodge Durangos should soon also be assembling a new SUV for Maserati that will have an engine produced by Ferrari.
The Maserati Kubang SUV, officially still a concept car, was unveiled Tuesday at the 2011 Frankfurt Motor Show in Germany.
Sergio Marchionne, chief executive of both Chrysler and Fiat, had previously mentioned plans to build a Jeep-based Maserati SUV in the same Detroit factory that now makes the Durango and the Grand Cherokee.
Luxury automaker Maserati is owned by Fiat, the Italian company that rescued Chrysler Group from bankruptcy. Chrysler Group makes Dodge and Jeep vehicles.
Maserati cited "potential synergies with sister brand Jeep" as helping guide the decision to produce the Kubang. The idea isn't entirely new, though. Maserati had shown a concept SUV called the Kubang in 2003, before Fiat's relationship with Chrysler.
Both the Jeep Grand Cherokee and Dodge Durango have been sales hits for Chrysler Group and have met with mostly positive reviews from critics. It's expected that the Kubang will share the underlying engineering of those vehicles.
Gallery: 10 costliest cars at Pebble Beach
Maseratis are generally powered by Ferrari-built engines, and the Kubang will continue that tradition, using a 4.7-liter V8, Maserati said in its announcement. Ferrari is also part of Fiat Group.
The SUV will have an eight-speed transmission that the automaker said was developed by Maserati. The Grand Cherokee and Durango are also expected to have their own Chrysler-designed eight-speed transmissions next year.
Joe DeMatio, deputy editor for Automobile magazine, said he was unsure about Maserati's decision to produce the Kubang.
"Whether they should even be coming to the SUV party at this late date is highly debatable,' he said.
Luxury performance automakers like Porsche and BMW have offered SUVs for years now. Those automakers have proven that having an SUV in the lineup doesn't necessarily ruin a brand's performance image, DeMatio said.
Maserati, which has less well-defined image in consumers' minds -- beyond simply being an expensive Italian car -- may not have much to lose by stretching a bit, he said.
"The Maserati brand is not exactly a robust brand, anyway," DeMatio said, "so they may be thinking, 'Why not.'"
A Maserati spokesman declined to officially confirm where the SUV will be built or whether it would share Jeep engineering, referring instead to Marchionne's earlier statements.
Maserati did not announce pricing or fuel economy figures for the Kubang.
This will be the second time Chrysler and Maserati have worked together on a vehicle. The Maserati TC, which had a Chrysler engine, was introduced in the late 1980s and became a famous sales flop. A deck of playing cards -- printed by then-DaimlerChrysler many years later -- featured the Maserati TC and the bulbous 1970s AMC Pacer as the Jokers.